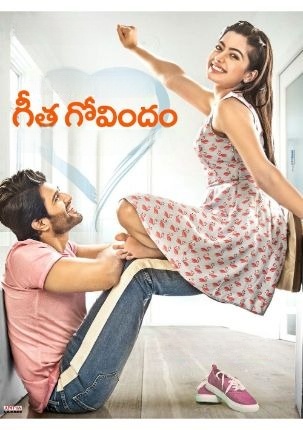 Geetha Govindam
Category:
Relased: August 17, 2018
7.7
2 h 22 min
1080P
Directed by Parasuram.
Written by Parasuram.
Cast Vijay Deverakonda(Vijay Govind). Rashmika Mandanna(Geetha). Subbaraju(Phaneendra). Mouryaani(Sirisha). Rahul Ramakrishna(Ramakrishna). Vennela Kishore(Kishore). Nagababu(Govind's Father). Annapoorna(Geetha's Grandmother). Giri Babu(Geetha's Grandfather). Kalyani Natarajan(Neelu's mother and Geetha's MD (as Kalyani N.)). Aneesha Dama(Neelu). Abdulla Basha(Abdulla (voice)). Ravi Prakash(Police Officer Ravi). Abhay Bethiganti(Govind's Friend). Duvvasi Mohan(Priest). Gautam Raju(Police officer (as Gowtam Raju)). Chitram Seenu(Taxi Driver). Anu Emmanuel(Girl in Bus Stop (Special Appearance)). Prabhas Sreenu(A cameo appearance in the song 'What the Life'). Nithya Menen(Nithya (special appearance) (as Nithya Menon)). Kaveri(Govind's Mother (Cameo Appearance)) .Sandhya Janak.Chandramogli Madem. Koushik Mahata(Vijay's friends).Nagendra Babu. Pkaushikji(Prem).Satyam Rajesh. Pradeep Rajput(Govind). Vikash Rajput(Singer (voice)). Hitesh rathod(Vijay (voice) (as Hitesh Rathod Viratian)).Bawer Said. Sathviksriram(Musician).Gundu Sudharshan.Swapnika
Language Telugu.
Producers Allu Aravind. Satya Gamidi. Bunny Vasu.
Production GA2 Pictures.