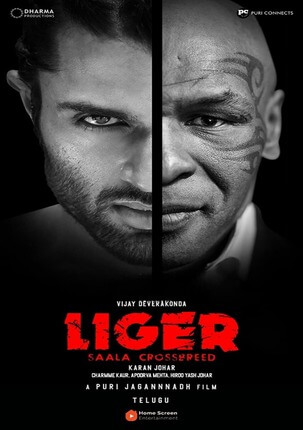 Liger
Category:
Relased: August 25, 2022
3.1
2h 20min
1080p
Directed By Puri Jagannadh
Written By Puri Jagannadh. Prashant Pandey. A.R. Sreedhar. Kiran Thatavarthi
Stars Mike Tyson (Mark Anderson). Ananya Panday (Tanya). Vijay Deverakonda (Sashwath 'Liger' Agarwal). Chunky Pandey (Father of Tanya and Sanju). Ramya Krishnan (Balam (Liger's mother)). Ronit Roy (Master Christopher). Makrand Deshpande (Mallesh). Jay Klay (Rancher Body Guard). Murphy Trevor (Rancher). Vish (Sanju (as Vishu Reddy)). Ivy Haralson (Female gang member). Abhinay Raj Singh (Liger Friend). Mohammad Ali ((as Ali)). Saray Morgan (Rancher). Jeremy Chavez (Rancher). Gary DeShaun House (Pancho). Atul Parchure (Cop in train). Anthony Njokuani (Henchman). Vinni Mobstaz (Brother). Pradeep Rajput (Rocky Friend). Getup Srinu(Ganpat (as Getup Seenu)). Hani Yadav (Vanish). Brooke Lewis(Rancher). Cing Casper (Rancher Bodyguard). Felix Fukuyoshi Ruwwe (Transgender Gang Member). Shah Emtiaj (Rama). Kasper Jorgensen (Kidnapper). Colby Baker (Rancher Bodyguard). Abhishek Mishra (Fighter). Stephen Sharp (Rancher). Ahmed Mokbel (James).
Language Telugu. Hindi
Producer Karan Johar. Charmme Kaur. Apoorva Mehta. Hiroo Yash Johar. Puri Jagannadh. Vish. Janeshwar Shukla. Prashant Shah. Santosh Mojar.
Production Dharma Productions. Bollywood Hollywood Production. Puri Connects