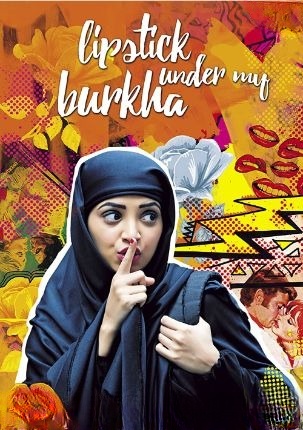 Lipstick Under My Burkha
Category:
Relased: July 21, 2017
6.8
1 h 57 min
1080P
Directed by Alankrita Shrivastava.
Written by Gazal Dhaliwal. Suhani Kanwar. Alankrita Shrivastava. Alankrita Shrivastava.
Cast Aahana Kumra(Leela). Ratna Pathak Shah(Usha Parmar (as Ratna Pathak)). Konkona Sen Sharma(Shirin Aslam). Plabita Borthakur(Rehana Abidi). Mukesh Aditya(BMC Official 1). Disha Arora(Fatima (as Rahim's mistress)). Shashank Arora(Dhruv). Savita Bhargav(Mrs. Navjot Kaur). Akaber Bukhari(Sales Executive). Sawstika Chokraberty(Manoj's Mother). Sudhir Choubey(Honeymoon Travel Agent). Deepak(Mall Security Guard). Pankaj Divedi(Swimsuit Shop Salesman). Aseem Dubey(BMC Official 2). Namita Dubey(Namrata). Sarthak Ganguli(Afzal). Aparna Ghoshal(Poonam (as Aparna Ghosal)). Neha Gupta(Magic Gun Customer). Alok Gutch(Chemist). Rahul Jadhav(Video Blogger At Protest). Jatin Jaiswal(Lakhan).Sonal Jha. Sonal Joshi(Sita). Manju Kaicker(Pool Woman 1). Ahmed Khan(Madanlal). Anwar Khan(Abidi). Imran Khan(First Assistant to DOP). Preeti Kochar(Zeba (as Preeti Kochhar)). Kallappa S. Kutty(Chief Assistant to DOP). Vikrant Massey(Arhad). Monika Meena(Photo Studio Bride (Honeymoon Couple)). Animesh Mehta(Peon).
Language Hindi.
Producers Syed Zaid Ali. Prakash Jha.
Production Prakash Jha Production. Zeal Z Entertainment service.