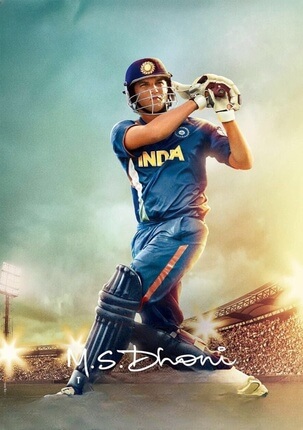 M.S. Dhoni: The Untold Story
Category:
Relased: September 30, 2016
7.9
3 h 4 min
1080P
Directed by Mathur Goswami. Neeraj Pandey.
Written by Neeraj Pandey. Dilip Jha. Guru Thakur. Mohinder Pratap Singh. Shyam Maheshwari.
Cast Sushant Singh Rajput(M. S. Dhoni). Kiara Advani(Sakshi Singh Dhoni nee Rawat). Anupam Kher(Pan Singh Dhoni). Disha Patani(Priyanka Jha). Bhoomika Chawla(Jayanti Gupta). Sanjay Dadhich(Satya Prakash Krishna). Kaliprasad Mukherjee(A K Ganguly (as K P Ji)). Zeeshaan(Young Dhoni). Mithu Chakraborty(Mrs. Banerjee). Kranti Prakash Jha(Santosh Lal). Ashrut Jain(Shabbir). Brijendra Kala(Commentator Tiwari Ji). Mukesh S. Bhatt(Commentator Shukla Ji). Jitin Gulati(Gautam Gupta). Sahil Gyan(Akash – JVM School Team Captain). Sushil Kumar Dutta(Das Babu). Sarvadaman Banerjee(Chanchal). Deepak Dutta(Dilip Vengsarkar). Mayur Bansiwal(Office Staff). Rajendra Chawla(Dhoni's Sponsor). Santilal Mukherjee(Sarkar (as Shanti Lal)). Sandeep Nahar(Chottu Bhaiya). Herry Tangiri(Yuvraj Singh (as Herry Tangri)). Alok Pandey(Chittu). Rajesh Sharma(Keshav Ranjan Banerjee). Kumud Mishra(Mr. Deval) . Gaurav Singh B(Ravi). Jaikant Bhardwaj(Cricketer). Satish Brahmbhatt(Anshul). Mahendra Singh Dhoni(Self (archive footage)). Vijay Kumar Dogra(Railway Team Selecter).Nitanshi Goel. Mehdi Hasan(Shikhar Dhawan). Mehndi Hasan(Shikha Dhawan).Janardan Jha. Aamir Khan(Spectator (archive footage)). Javed Murtaza Ali Khan(Suresh Raina (as Javed Khan)). Swini Khara(Young Jayanti). Virat Kohli(Self (archive footage)).Anish Kuruvilla. Ravindra Mankani(Jagmohan Dalmiya). Neeta Mohindra(Mother of M S Dhoni). Kiran More(Self). Muttiah Muralitharan(Self (archive footage)). Suraj Naagar(Monil). Shivam Roy Prabhakar(Maahi's Classmate).Shahnawaz Pradhan. Sheena Rajpal(Girl in the Balcony). Surjeet Singh Rajput(Deepak Singh). Vikash Rajput(Vikash Rajput). Virender Sehwag(Self (archive footage)). Joginder Sharma(Self (archive footage)). Rhea Sharma(Ritu – Sakshi's Friend).Sujeet Kumar Sharma. Harsh Shashwat(Digital Partner). Abhinay Raj Singh(Ms Dhoni Friend Young). Deependra Singh(Dhoni's Friend). Manish Soni(Mr. Deval's Friend). Abhijeet Sooryvanshe(Sanjay Bangur (BCCI member)). Rajveer Suryavanshi(BCCI Umpire). Sachin Tendulkar(Self (archive footage)). Rajesh Tiwary(Rakesh)
Language Hindi.
Producers Shahin Ezaz. Rosita Fernandes. Deepak Gawade. Vineet Joshi. Bantoo Khanna. Kapil Madnani. Ouch. Arun Pandey. Sandeep Rudra. Ravi Sarin. Yogiraj Shetty. Suraj Singh. Sanjeev Verma.
Production Friday Filmworks. Inspired Entertainment.