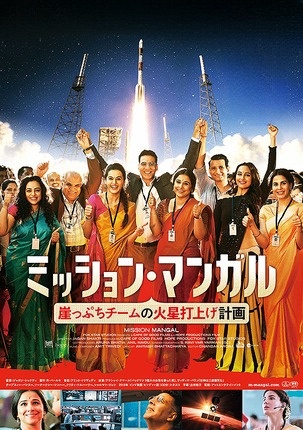 Mission Mangal
Category:
Relased: August 15, 2019
6.5
2 h 10 min
1080P
Directed by Jagan Shakti.
Written by R. Balki. Saketh Kondiparthi. Jagan Shakti. Nidhi Singh Dharma. Riturraj Tripathii.
Cast Akshay Kumar(Rakesh Dhawan). Vidya Balan(Tara Shinde). Taapsee Pannu(Kritika Aggarwal). Sonakshi Sinha(Ekta Gandhi). Nithya Menen(Varsha Pillai (as Nithya Menon)). Sharman Joshi(Parmeshwar Naidu). H.G. Dattatreya(Ananth Iyer). Kirti Kulhari(Neha Siddiqui). Vikram Gokhale(Director of ISRO). Dalip Tahil(Rupert Desai). Sanjay Kapoor(Sunil Shinde). Mohd. Zeeshan Ayyub(Rishi Aggarwal (as Mohammed Zeeshan Ayyub)). Purab Kohli(Vivek Pillai). Rohan Joshi(Dilip Shinde). Kashmira Pardeshi(Anya Shinde (as Kashmira Paradeshi)) . Krishna Bhatt(Krittika driving school trainer). Anirban Bhattacharyya(Television Host). Jhuma Biswas(Nithya Menon's Mother-in-law). Monsoon Boruah(Propulsion Scientist). Satyen Chaturvedi(News Anchor). Kenneth Desai(Scientist). Avijit Dutt(Scientist). Anupam Gahoi(Scientist). Amitabh Gupta(Space Commission Member (as Amitabha a Gupta)). Sejal Gupta(Young Neha Siddiqui).Dharmendra Jaiswal. Abhijay Joshi(Child Ananth Iyer). Deepak Kalra(Senior Scientist). Mohan Kapur(Scientist (as Mohan Kapoor)). Advait Kottary(Team Member). Prathamesh Mehta(Tara's Father). Pyarali Nayani(News Critics). Daniel O'Kane(American TV Personality).Karan Sharma. Saurabh Sharma(Tiwari). Amitt k Singh(Kirti Kulhari's Husband). Deependra Singh(Vivek). Takesh Singh(News Panelist). Rohit Tiwari(Astrologer). Sahil Rakesh Grover(Bartender (uncredited))
Language Hindi.
Producers Jiten Nand Kishor Arora. Kishor Athwal. Aruna Bhatia. Amar Butala. Akshay Kumar. Anil Naidu. Sandeep Sharma.
Production Cape of Good Films. Fox STAR Studios. Hope Pictures.