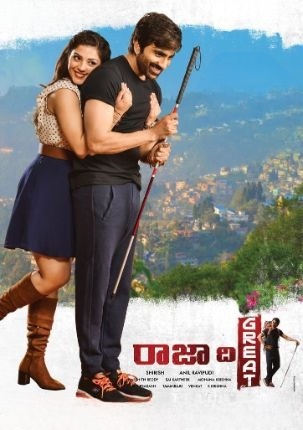 Raja the Great
Category:
Relased: October 13, 2017
6.3
2 h 29 min
1080P
Directed by Anil Ravipudi.
Written by Anil Ravipudi.
Cast Ravi Teja(Raja). Mehreen Pirzada(Lucky). Vivan Bhatena(Devaraj (as Vivaan)). Radhika Sarathkumar(Constable Anantha Lakshmi, Raja's mother). Srinivasa Reddy(Bujji (as Srinivas Reddy)). Rajendra Prasad(Prasad (as Rajendraprasad)). Sampath Raj(I. G. Sampath). Prakash Raj(SP Prakash and Lucky's Father). Tanikella Bharani(Mailaramgadda, Devaraj's father). Mohammad Ali(Kabaddi Team Player (as Ali)). Raghu Babu(SI Babu Rao). Krishna Murali Posani(Lucky's uncle). Prudhviraj(Bank Manager Babji (as Prudhvi Raj)). Jayaprakash Reddy(Devaraj's henchmen). Sai Kumar(Surya Murthy). Rajeev Kanakala(Police Officer). Ravi Prakash(Police Officer). Bharath Reddy(Police Officer). Banerjee(Martial Arts Trainer (as Banerji)). Surya(Raja's Father). Gautam Raju(Sahaayam). Satyam Rajesh(Lucky's uncle). Prabhas Sreenu(Lucky's uncle). Chitram Sreenivas(Lucky's uncle). Annapoorna(Prasad's mother (as Annapoorna Amma)). Pavitra Lokesh(Gayatri (as Pavithra Lokesh)). Vidyullekha Raman(Pandu). Karate Kalyani(Servant Saraswathi). Hari Teja(Lucky's aunt). Surekha Vani(Lucky's aunt). Sana(Lucky's aunt). Rajitha(Viswaraj's wife). Bitthiri Sathi(Kabaddi Team Player). Chammak Chandra(Bank Cashier Siddharth). Ramachandra(Swamiji). Mahadhan(Young Raja). Harsha Chemudu(Commentator (as Viva Harsha)). Sampoornesh Babu(Peter (cameo appearance)). Thagubothu Ramesh(Sastry (cameo appearance)). Anil Ravipudi((cameo appearance in the song 'Raja The Great')) .Mahesh Achanta.Jabardasth Appalarao.Arvind.Bhajan.Bharath.Chandramouli.Guru Charan.Ravi Charan.Choudhary.John Cocain.Gagan.Venu Gopal.Jagadish.Kalki.Raashi Khanna.Kotesh.Lekha.Madhu.Jabardasth Mahesh.Padmini.Viva Raghav.Raghu.Goutham Raju.Babu Ram.Rambabu.Racha Ravi.Satish Reddy. Sapthagiri(Guest Appearance).Shivam.Siddharth.Sravan.Sridhar.Sundar.Venkat
Language Telugu.
Producers Dil Raju. Sireesh.
Production Sri Venkateswara Creations. Goldmines Telefilms.