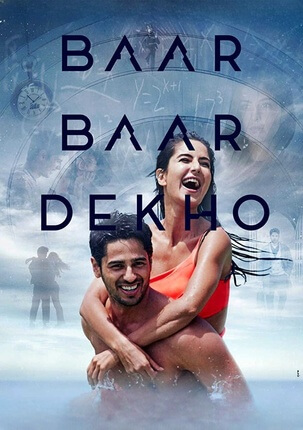 Baar Baar Dekho
Category:
Relased: September 9, 2016
5.4
2 h 21 min
1080P
Directed by Nitya Mehra.
Written by Nitya Mehra. Sri Rao. Anuvab Pal. Anvita Dutt.
Cast Sidharth Malhotra(Jai). Katrina Kaif(Diya). Sayani Gupta(Chitra) . Kirti Adarkar(Suman). Sagar Arya(Nikhil Khanna). Taha Shah Badussha(Tarun (as Taaha Shah Badusha)). Faisal Batliwala(Jai 14 years). Amit Bhagwanani(Journalist). Andrey Boldyrkov(Tour group). Norman Bowman(Rick (Tarun's Boyfriend)). Jodi Brown(Bride). Charles Burke(Football Coach). Henry Caffarena(Student 3). Siam Chanloy(Tour group). Naowarat Charoenwong(Hotel Attendant). Anne Connor(Diya's Lawyer). Naomi Costello(Naina 4 years). Waralak Coturaphan(Tour group). Jason D'Souza(Jai 5 years). Stephen Donnachie(Groom). Gangandeep Duggal(Man on ladder). Brian Espie(Man at the funeral). Fred Fergus(Student (2023)). Prakash Kumar Gaurav(Raju Housekeeper). Ashley Gillhaney(Meghan). Nicola Gough(Stenographer). Adrian Grove(Doctor). Shruti Gupta(Shruti). Smriti Gupta(Shreya). John Haddow(Student 8). Laura Hardie(Nurse 4). Rohan Joshi(Raj). Rajit Kapoor(Panditji). Ram Kapoor(Vinod Kapoor). Martin Kelly(Bailiff). Mohsin Ali Khan(Videoman). Naisha Khanna(Diya 5 years). Nicki Macdonald(Student 2). Bhavna Makhija(Girl with curly hair). Paul Mcbain(Professor in University). Mark Mckechnie(Jai's Lawyer). George Morris(Mr. Reynolds). Zack Niizato(Customer). Evgenia Ovsiiannikova(Tour group). Teena Paradkar(Dancer). Bhasker Patel(Dr. Ramamurthy). Sahil Patel(Masterji). Varun Raj(Arjun age 16&28 years (as Varun Sharma)). Hussina Raja(Naina). Kasinee Ruangsuk(Receptionist). Jai Sharma(Drunk Person). Tunisha Sharma(Diya 14 years). Abhishek Singh(Arjun 7 years). Suraj Singh(Jai's Father). Miles Sloman(Student (2023)). Ivan Sorokhan(Tour group). Mark Spiden(Student 1). Zara Symes(Delivery Nurse). Hiroe Takai(Sakura). Yasuharu Taniguuchi(Tour group). Sarika Thakur(Varsha Verma (as Sarika)). Alys Torrance(Anne Kapoor). Sarmad Varraich(Dr. Anirudh Choudhary). Aroon Wanasbodeewong(Somporn). Julia Watson(Magistrate). Tracy Weir(Nurse 3). Patrycja Wroblewska(Student 7). Atta Yaqub(Naina's Husband). Charlotte Yeamen(Diya's only friend). Bacho Elly Yohane(Student 6)
Languages Hindi. English.
Producers Farhan Akhtar. Vikesh Bhutani. Rajeesh Dham. Jim Edgar. Hiroo Johar. Karan Johar. Firuzi Khan. Akram Malik. Cyrus Patel. Sri Rao. Ritesh Sidhwani. Nita Vaidya. Rupali Suresh Vaidya.
Production Dharma Productions. Excel Entertainment.