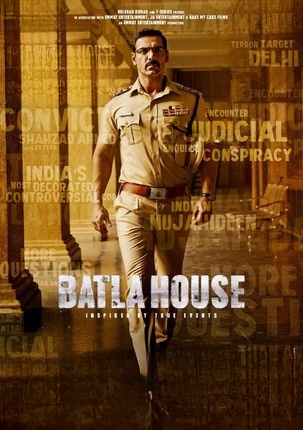 Batla House
Category:
Relased: August 15, 2019
7.2
2 h 26 min
1080P
Directed by Nikkhil Advani.
Written by Ritesh Shah.
Cast John Abraham(ACP Sanjay Kumar). Nora Fatehi(Huma / Victoria). Mrunal Thakur(Nandita Kumar). Ravi Kishan(Inspector K.K. Verma (Kishen Kumar Verma)). Rajesh Sharma(Advocate Shailesh Arya). Sidharth Bhardwaj(Maan singh). Pramod Pathak(P Krishnan, Defense counsel). Sahidur Rahaman(Dilshad Ahmed). Sonam Arora(Shweta Verma). Manish Chaudhari(Police Commissioner (as Manish Chaudhary)). Kranti Prakash Jha(Adil ameen).Chobber Sidhu. Md Faisal Ahmed(Batla House). Bachan Pachehra(Tufail's Father (as Bachan Pachera)). Robin Das(Chacha). Amit Jaiswal(Inspector Jaiswal). Chirag Katrecha(Zia). Anil Rastogi(Home Minister Shivaji Patil). Indraneel Bhattacharya(Head of News Express 24 x 7). Alok Pandey(Tufail). Jitendra Trehan(Commissioner Of Police Leherwal). Gaurav Sharma(Nikhil). Cricknowle(Waiter). Amit Jairath(Jeetender). Faizan Khan(Javed). Chrisanne Periera(Nandita's Parlour Friend). Naval Shukla(Dr.Sahil). Aditi Gulati(Rashmi). Tahir Anand(Reporter 2). Sanjeev Jogtiyani(Constable Balbir Singh (as Sanjeev Jotangia)). Anil Khopkar(Maulana Rumi). Amruta Sant(Shraddha (The Activist)). Manoj Tiger(Ajay Chauhan). Varun Tamta(Nizampur Cop1). Asif Ali Baig(Home Minister P.C Naidu). Md Abu Yousuf(Police (voice)). Anjuman Saxena(Nandita's Mother). 
Language Hindi.
Producers John Abraham. Kunal Advani. Monisha Advani. Vinod Bhanushali. Madhu Bhojwani. Minnakshi Das. Arun Singh Dikky. Hemraj Dogra. Karan Joshi. Bhushan Kumar. Krishan Kumar. Sandeep Leyzell. Priyanka Mehrotra. Satish Poddar. Mayank Tiwari. Rameshchandra Yadav.
Production Bake My Cake Film. Emmay Entertainment. J.A. Entertainment.