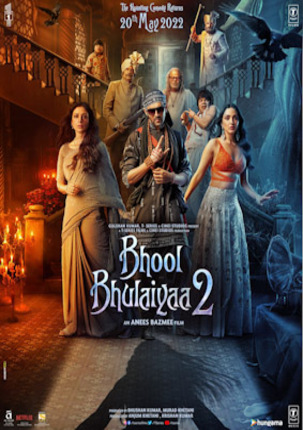 Bhool Bhulaiyaa 2
Category:
Relased: May 20, 2022
5.7
2h 23min
1080p
Directed by Anees Bazmee
Written by Aakash Kaushik. Aakash Kaushik. Aakash Kaushik. Farhad Samji
Cast Tabu (Manjulika / Anjulika). Kartik Aaryan (Ruhan Randhawa). Kiara Advani (Reet Rathore). Rajpal Naurang Yadav (Chhote Pandit). Amar Upadhyay (Uday Rathore). Sanjay Mishra (Bade Pandit). Ashwini Kalsekar (Panditain – Bade Pandit's Wife). Milind Gunaji (Thakur – Reet's Father). Rajesh Sharma (Reet's Chacha). Sajida Khan (Reet's Chachi). Govind Namdeo (Tantrik Baba – The Spirit Hunter). Samarth Chauhan (Potlu – Reet's Cousin). Mehak Manwani (Trisha Rathore). Sparsh Walia (Sagar – Trisha's Fiancé). Vyoma Nandi (Rajjo – Reet's Cousin). Kaliprasad Mukherjee (Debanshu Chatterjee – Manjulika's & Anjulika's Father). Neena Patel (Naani). Samaira (Young Manjulika). Sanaya (Young Anjulika). Karamveer Choudhary (Mukhiya – The Village Head). Gulshan Chopra (Gulshan). Ridhvika Thakur (Aishwarya). Sonpreet Jawanda (Inspector)
Language Hindi
Producers Akanksha. Anees Bazmee. Shiv Chanana. Arun Singh Dikky. Jatin Pawan Girotra. Anjum Khetani. Murad Khetani. Niraj Kothari. Bhushan Kumar. Krishan Kumar. Ravish Kumar Sharma. Yogiraj Shetty. Taranng Takrani.
Production Cine1 Studios. T-Series Films. T-Series