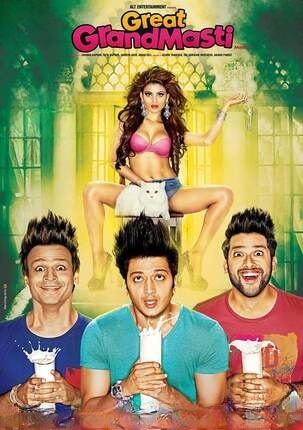 Great Grand Masti
Category:
Relased: July 15, 2016
3.7
2 h 14 min
1080P
Directed by Indra Kumar.
Written by Akash Kaushik. Madhur Sharma. Madhur Sharma.
Cast Urvashi Rautela(Ragini). Riteish Deshmukh(Amar Saxena). Vivek Oberoi(Meet Mehta). Aftab Shivdasani(Prem Chawla). Puja Banerjee(Sapna Saxena). Mishti(Rekha (Meet's Wife) (as Mishti Chakravarty)). Shraddha Das(Nisha Chawla (as Shradha Das)). Usha Nadkarni(Amar's Mother-in-law). Kangna Sharma(Prem's Sister-in-law). Ketan Karande(Meet's Brother-in-law (as Ketan Mangesh Karande)). Sanjay Mishra(Antakshari Baba). Bhadra Parekh(A Boy Shepherd). Vijay Gupta(Father). Farzil Pardiwalla(Patient in Clinic). Pramod Bhangare(Baba's Disciple 1). Vidyadhar Karmakar(Dada in the Car). Ragini Vaidya(Dadi in Car). Chiranjeet Chabria(Husband in the Car). Shivani Thakur(Wife in the Car). Palash Dutta(House Buyer Couple (Male)). Sonali Raut(Shiney). Ghazal Sharma(House Buyer Couple (Female) (as Gazla Sharma)). Rocky Ashok Banatkar(A Guy in Hotel). Ravi Ujjain(Broker). Karan Sharma(Client). Katy Printer(A Old Lady Doing Pottery in Dooohwadi) . Cricknowle(Shiva). Archana Gautam(Gaav Ki Goori). Sudesh Lehri(Ramse (uncredited)). Shreyas Talpade(Babu Rangeela (uncredited))
Language Hindi.
Producers Gautam Adhikari. Markand Adhikari. Chandresh Bhatt. Aman Gill. Dilip Mistry. Sameer Nair. Anand Pandit. Sakett Saawhney. Ashok Thakeria.
Production Anand Pandit Motion Pictures. Maruti International.