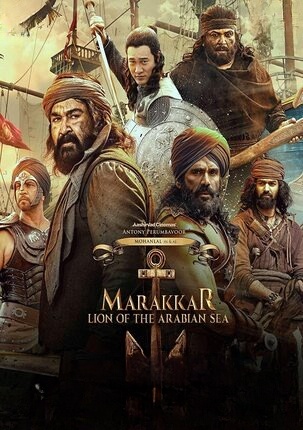 Marakkar: Lion of the Arabian Sea
Category:
Relased: December 2, 2021
5.9
3 h 1 min
1080P
Directed by Priyadarshan
Written by Priyadarshan. Priyadarshan. Priyadarshan. Ani. I.V. Sasi. Ani. I.V. Sasi
Cast Mohanlal(Kunjali Marakkar IV). Arjun Sarja(Anandan Mangattachan). Suniel Shetty(Chandroth Panicker). Prabhu(Thangudu). Manju Warrier(Subaida). Keerthy Suresh(Aarcha). Nedumudi Venu(Samoothiri). Siddique(Pattu Marakkar). Mukesh(Dharmoth Panicker). Pranav Mohanlal(Young Kunjali Marakkar IV). Ashok Selvan(Achuthan). Kalyani Priyadarshan(Aisha). Fazil(Kutti Ali Marakkar / Kunjali Marakkar I). Suhasini(Khadeejumma). Hareesh Peradi(Mangattachan). Innocent(Namath Kurup). Ganesh Kumar(Verkkottu Panicker). Baburaj(Puthumana Panicker). Mammukoya(Aboobakkar Haji). Nandu(Kuthiravattathu Nair). Santhosh Keezhattoor(Kokkattu Panicker). Suresh Krishna(Moidu). Manikuttan(Mayinkutty). G. Suresh Kumar(Kochi Raja).Krishna Prasad.Maala Parvathi.Komal Sharma. Toby Sauerback(Viceroy Francisco da Gama). Max Cavenham(Commander André Furtado de Mendonça). Paul Huntley-Thomas(Afonso de Noronha). Veena Nandakumar((as Veena Nandhakumar)).Bineesh Kodiyeri.Shiyas Kareem.Narayanan Nair.Antony Perumbavoor.Arun Kurian.Jitin Puthanchery.Vikraman Nair. Jakkrit Kanokpodjananon(Chinnali).Srikant Murali.Arjun Nandakumar. Sandeep Narayan(Marakkar's Close Associate)
Languages English. Malayalam
Producers Suresh Balaje. Roy C.J.. Santhosh T. Kuruvilla. Antony Perumbavoor. George Pius.
Production Aashirvad Cinemas. Moonshot Entertainments. Confident Group