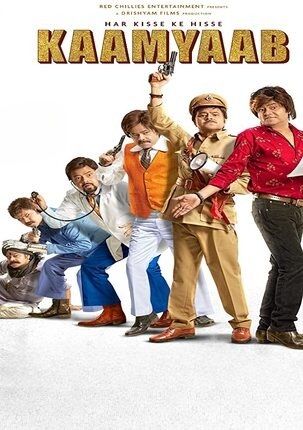 Kaamyaab
Category:
Relased: March 6, 2020
7.8
1h 49 min
1080p
Directed by Hardik Mehta
Written by Radhika Anand. Hardik Mehta. Hardik Mehta
Cast Sanjay Mishra (Sudheer / Babulal Chandola). Deepak Dobriyal (Dinesh Gulati). Sarika Singh (Bhavna). Isha Talwar (Isha). Avtar Gill (Avtar Gill). Nasir Khan (Director Barot (as Nasirr Khan)). Kaurwakee Vasistha (Anu). Amitabh Srivastava (Mehra). Akashdeep Arora (Shibu). Devika Vatsa (Devika – casting assistant). Viju Khote (Self). Birbal (Self). Lilliput (Self). Ramesh Goyal (Self). Manmauji (Self). Guddi Maruti (Self). Anil Nagrath (Self). Bachchan Pacheria (Self). Manoj Bakshi (Villain Boss). Rajkumar Baljeet (Jwala Daku). Mousumi Baruah (Ruby).Rajesh Bonik. Shubhankar Das (The Drunken Man who takes selfie). Devas Dixit (Gulati's Assistant). Simran Gangwani (Anchor & Teacher). Nandkumar Hardasi (Villain #4). Arvind Jangid (Manager). Pranav Joshi (Production Manager). Shehzad Khan (Daaga Sahab). Alok Kumar (Cashier). Manish Kumar (Film Director of 90s). Tanvi Lakhani (Youngster #3 – Horror Haveli). Chunnu Mehra (Villain #3). Hardik Mehta (Youngster #4 – Horror Haveli). Virendra Mishra (Inspector). Mukesh Nagar (Ayurveda Director). Bharat Pahuja (Henchman 2). Neeraj Pandey (Writer on the set). 
Languages Hindi
Producers Vikram Arora. Raghav Gupta. Supriya Guru. Gauri Khan. Kapil Madnani. Manish Mundra. Sumit Shukla. Vishal Anil Singh. Dharam Soni. Gaurav Verma.
Production Drishyam Films. Eros Worldwide. Red Chillies Entertainment