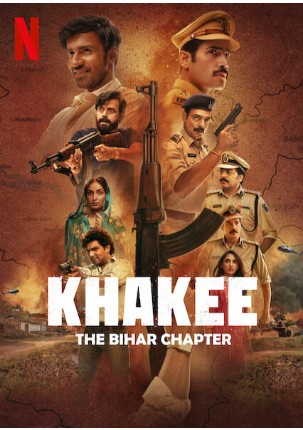 Khakee: The Bihar Chapter
Category:
Relased: November 25, 2022
8.2
45 min/ep
1080P
Directed by Bhav Dhulia.
Written by Neeraj Pandey. Uma Shankar Singh. Umashankar Singh.
Cast Avinash Tiwary( Chandan Manto). Nikita Dutta( Tanu). Jatin Sarna( Chyawanprash Sahu). Aishwarya Sushmita( Meeta Devi). Abhimanyu Singh( Ranjan Kumar). Bharat Jha( SI Ajeet Kumar). Neeraj Sen( Badminton Player). Neeraj Kashyap( Shivram). Chandra Shekhar Dutta( Mantri). Kaliprasad Mukherjee( Ravinder Mukhiya). Shraddha Das( Saumya Mukherjee). Satish Badal( Tola Singh). Ashit Kumar( Manikpur's Informer). Aditi Singh( Ruby Kumari). Arun Malik( IG of Police , Shyam Bahadur). Meenakshi Chugh( DGP Wife). Manish Choudhary( Passenger). Aditya Srivastav( Constable Mahto). Pankaj Upadhyay( Birendar – Brother in Law). Siddhant Mishra( Anchor). Amit Anand Raut( Conductor). Ashutosh Rana(unknow) . Ravi Kishan(unknow) . Vinay Pathak(unknow) . Anup Soni(unknow) . Dipti Agrawal( Reporter unknow)
Language Hindi.
Producers Shital Bhatia. Deepak Gawade. Deepak Gawade. Abhishek Chouksey.
Production Friday Storytellers.
Number of Seasons 1
Number of Episodes 7
Status OnGoing (2022–)