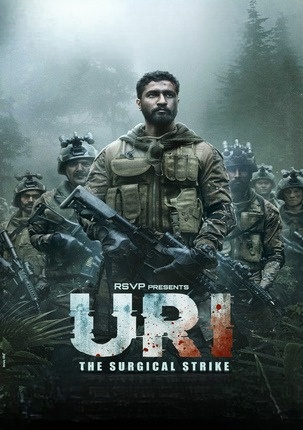 Uri: The Surgical Strike
Category:
Relased: January 11, 2019
8.2
2 h 18 min
1080P
Directed by Aditya Dhar.
Written by Aditya Dhar.
Cast Vicky Kaushal(Major Vihan Singh Shergill). Paresh Rawal(Govind Bhardwaj). Mohit Raina(Major Karan Kashyap). Yami Gautam(Pallavi Sharma / Jasmine Almeida). Kirti Kulhari(Seerat Kaur). Rajit Kapoor(Prime Minister of India). Ivan Rodrigues(Brian D'souza). Manasi Parekh(Neha Kashyap). Swaroop Sampat(Suhashini Shergill). Riva Arora(Suhani Kashyap). Yogesh Soman(Ravindra Agnihotri).Fareed Ahmed. Akashdeep Arora(Ishaan).Kallol Banerjee.Amaan Asif.Padam Bhola.Guru Bhullar.Beant Singh Buttar.Ashit Chatterjee. Manish Chaudhari((as Manish Chaudhary)).Rajvir Chauhan. Ujjwal Chopra(Aasma's Husband).Sudam Ck.Sushil Dahiya.Harshit Dang. Adarsh Gautam(Major Lateef).Anil George.Dev Raj Ghosh. Dhairya Karwa(Captain Sartaj Singh Chandok).Gagandeep Singh Khanna.Sunil Mehra.Anurag Mishra.Bhuperdra Singh Negi.Sunil Palwal.Parmeshwar.Satish Phulekar.Amit Saproo.Himanshu Sharma. Satyajit Sharma(Lt. General Ajay Garewal (as Satyajeet Sharma)).Nishant Singh.Parminder Singh.Surjit Singh.Rahul Tyagi.Tashi Tobgay. Abrar Zahoor(Idris). Aamir Yaseen(Faheem Khan).
Language Hindi.
Producers Alek Conic. Pashan Jal. Salona Bains Joshi. Sonia Kanwar. Hetvi Karia. Ankur Khanna. Sandeep Mahadik. Ashwani Mishra. Rugved Mondkar. Ravi Sarin. Ronnie Screwvala. Shubh Shivdasani. Shilpan Vyas Tinu. Sushant Tungare. Sanaya Irani Zohrabi.
Production Bulb Chamka. RSV.