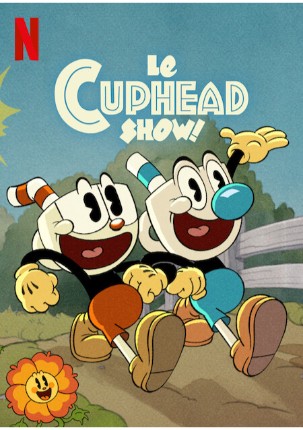 The Cuphead Show!
Category:
Relased: February 18, 2022
7.4
12 min/ep
1080P
Directed by Adam Paloian. Clay Morrow.
Written by Cosmo Segurson. Clay Morrow. Deeki Deke. Deeki Deke. Adam Paloian. David Wasson. David Wasson. Chad Moldenhauer. Jared Moldenhauer. Dan Becker. Karl Hadrika. Kennedy Tarrell. Kennedy Tarrell. Kennedy Tarrell. Fernando Puig. Fernando Puig. Megan Boyd.
Cast Frank Todaro( Mugman3) . Joe Hanna( Elder Kettle2) . David Wasson( Henchman2) . Grey Griffin( Ms. Chalice1) . Luke Millington-Drake( Devil1) . Cosmo Segurson( Porkrind1) . Andrew Morgado( Stickler) . Chris Wylde( Ribby) . Rick Zieff( Croaks) . Wayne Brady( King Dice). Keith Ferguson( Bowlboy) . Kimberly Brooks( Elephant Grandma) . Mick Wingert( Bear) . Melique Berger( Belinda) . Natasia Demetriou( Cala Maria). Cristina Milizia( Baby Bottle). Deeki Deke( Mailman) . Marcia Gay Harden( Sally Stageplay). April Winchell( Head Penguin) . Gary Anthony Williams( Quadratus) . Jim Conroy( Duke) . Adam Paloian( Harry) . Fred Tatasciore( Santa). Jason Vande Brake( Brineybeard). Chris Kattan( Werner Werman). Zoë Moss( Baroness Von Bon Bon). Dawnn Lewis( Bedelia) . Fernando Puig( Rookie). Dinora Walcott( Turkey Farmer). Kaitlyn Robrock( Spitty Sue). Candi Milo( Brandywine)
Languages English. Persian.
Producers Scott Dyer. Carolyn Williamson. Colin Bohm. Jane Crawford. George Elliott. Wren Errington. Claire Finn. Kristen Hudecki. C.J. Kettler. Chad Moldenhauer. Jared Moldenhauer. Doug Murphy. Henriette Neubert. Cosmo Segurson. Ruchi Shah. Cormac Slevin. Lynne Warner.
Production Netflix Animation. King Features Syndicate. Studio MDHR.
Creators David Wasson. Chad Moldenhauer(based on the video game by). Jared Moldenhauer(based on the video game by).
Number of Seasons 3
Number of Episodes 36
Status OnGoing (2022–)