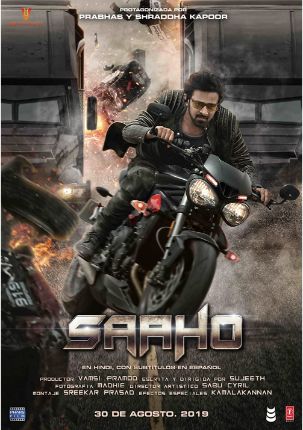 Saaho
Category:
Relased: August 30, 2019
5.0
2 h 50 min
1080P
Directed by Sujeeth.
Written by Sujeeth. K.G.R Ashok. Abbas Dalal. Hussain Dalal. Anil Kumar Upadyaula.
Cast Prabhas(Ashok Chakravarthy / Siddhant Nandan Saaho). Shraddha Kapoor(Amritha Nair). Jackie Shroff(Roy). Neil Nitin Mukesh(Jai). Vennela Kishore(Goswami). Murali Sharma(David (as Murli Sharma)). Arun Vijay(Vishwank / Iqbal). Prakash Belawadi(Shinde). Evelyn Sharma(Aisha / Jennifer). Mandira Bedi(Kalki). Supreet(Alex). Mahesh Manjrekar(Prince). Tinnu Anand(Prithvi Raj). Jacqueline Fernandez(Special Appearance in song 'Bad Boy'). Chunky Pandey(Devaraj). Karthiikeyan Krishna(Saaho (6 yrs)). Irfan Ahmed Syed(Arjun). Rik Aby(Cpt. James Folk). Tiger Ali(Franco Brother). Aravind(Victim 2). Madhu Babu(Devraj Gangmember 2). Joy Badlani(Gangster). Abhay Bethiganti(Assistant Manager). Tanikella Bharani(Ramaswamy Allagadda). Bharat Bhatia(Jewellery Shop Owner). Jim Carney(Courier Boy 2). Majili Chandu(Courier Boy 1). Damini Chopra(Preethi). Captain Chowdary(Mam). Devan(Ig). Burjor Dustoor(Board Member). Rajanala Eshwar(Mani Gangmember 1). Philip Fornah(Batista Gang Member). Karim Hajee(Board Member Shayaji). Harshavardhan(Shinde Assistant). Franaita Jijana(Waitress Angel). Joy(Vishwank (13 yrs)). Pradeep Kabra(Lucky Bakery Van Driver.). Bikramjeet Kanwarpal(Member of Roy Board Grp). Maazam Ali Khan(Roy Security 1). Mukhtar Khan(Basha (as Mukthar Khan)). Anil Khopkar(Board Member). Vijaya Murthy(Mani Wife). Kanij Koirala(Samba). Deepak Kripalani(Board Member). Sunil Kumar(Nagini Serial Actor). Sharath Lohitashwa(Mani). Tuks Tad Lungu(Prince Gang Member). Duvvasi Mohan(Ajay Assistant). Lal(Ibrahim). Sridhar Naana(John Snow). Jeevan Naidu(Mani Assistant). Brian Nathan Siegal(Saaho Gang Member (as Brian Nathan)). Krzysztof Ogonek(Batista). Mirko Quaini(Imran's gang member). RudraPrakash Raju(Prakash). Guda Ramakrishna(Mani Gangmember 2). Anil Ramoji(Ashok Chakravarthy Assistant 1). Sandeep Reddy(Mani Gangmember 3). Somitri Reddy(Armani Waiter). Sanjay Roy(Board Member). Naveen Sanaka(Coffee Shop). Arvind Wahi(Board Member). Sunny Viva(Mama Assistant). Sunil Vishrani(Muslim Guy). Ravi Varma(Ajay). Temper Vamsi(Victim 3). Tomas Tomas(100 man leader). Gemini Suresh(Suitcase). Baby Sudheeksha(Ramasamy Daughter). Sravan(Victim 1). Ajit Shidhaye(Member of Roy Board Grp). Amit Sharma(Blind Guy). Shanu(Roy Security 2). Michael Segal(Batista Gang Member). K. Saritha(Roy Wife). Sandeep(Courier Boy 3). Shyraa Roy(Natasha) . Gizelle Basiri(Model). Suraj Beera(Girish Garladinne). Md Anan Islam(Raj Grover). Jackey Mishra(Sniper). Malhottra Shivam(Ashok Chakravarthy Assistant 2 (as Malhotra Shivam)). Samiran Singh(Singer). Ankit Soreng(Editor). Suman(Saaho (credit only))
Languages Telugu. Hindi. Tamil.
Producers Kenny Bates. Ollwyn Dsouza. Ivano Fucci. Garrett Grant. Madhulika Jalali. Bhushan Kumar. Gulshan Kumar. Ishvinder Maddh. Shyam P.S.. Mini Purushot. V. Vamsi Krishna Reddy. Vikram Reddy. Tomas Rotnagl. Michele Saragoni. Pramod Uppalapati.
Production UV Creations. SVO Special Vehicle Operations. T-Series Films.