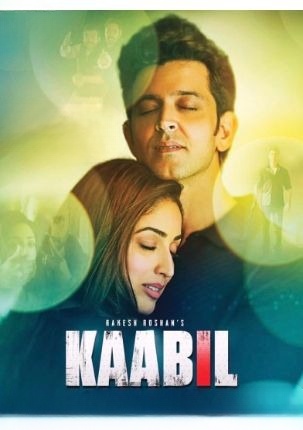 Kaabil
Category:
Relased: January 25, 2017
7.1
2 h 19 min
1080p
Directed by Sanjay Gupta.
Written by Sanjay Masoomm. Vijay Kumar Mishra. Rajshri Sudhakar.
Cast Hrithik Roshan(Rohan Bhatnagar). Yami Gautam(Supriya Bhatnagar). Ronit Roy(Madhavrao Shellar). Rohit Roy(Amit Shellar). Narendra Jha(Inspector Chaubey). Girish Kulkarni(Nalawade). Sahidur Rahaman(Wasim). Suresh Menon(Zafar). Asif Ali Baig(Shellar's Henchmen). Shaji Chaudhary(Anna).Khalid El Bargoni. Helena Fonseca(Matchmaker of Rohan and Supriya). Palvi Jaswal(Lubana).Abhishek Madrecha. Akhilendra Mishra(Shakeel). Niilam Paanchal(Parveen). Umair Patel(Musical Artist). Rockey Raina(Actor). Vikash Rajput(Vikash Rajput). Urvashi Rautela(Item number). Raj Sharma(Sound Recordist). Abhinay Raj Singh(Rohan Bhatnagar Neighborhood Akshit)
Language Hindi.
Producers Ronak Motla. Rakesh Roshan. Shammi Saini. Zahir Shah.
Production Film Kraft.