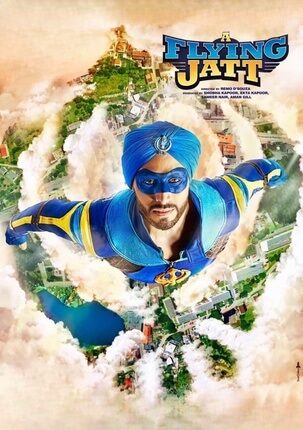 A Flying Jatt
Category:
Relased: August 25, 2016
3.1
2 h 31 min
1080P
Directed by Remo D'Souza.
Written by Tushar Hiranandani. Remo D'Souza. Aakash Kaushik. Madhur Sharma.
Cast Tiger Shroff(Aman Dhillon (Flying Jatt)). Jacqueline Fernandez(Kirti). Nathan Jones(Raka). Kay Kay Menon(Mr. Rakesh Malhotra). Mahi Milan(Daughter of Mr. Rakesh Malhotra). Mukesh Hariawala(Businessman (credit only)). Amrita Singh(Mrs. Dhillon / Bebe). Gaurav Pandey(Rohit Dhillon). Shraddha Kapoor(Self). Pawan Jam(Rapist).Amrita Puri. Vakil Khan(Rana's Son). Sushant Pujari(Goldy). Sada Yadav(P.A.Sharma). Pradeep Kabra(Goon). Vijeta Maru(Self) . Samir Chandra(Society Dadaji). NK Harivansh(Roshan). Nileshpatelxyz(Teacher). Vijay Singh(Vijay Singh). Shahbaz Khan(Played roel of school kid (uncredited))
Language Hindi.
Producers Tanveer Bookwala. Lizelle Dsouza. Aman Gill. Ekta Kapoor. Shobha Kapoor. Kanishka Mehta. Sameer Nair. Chirag Nihalani. Karishma Naina Sharma. Pawandeep Singh. Suraj Singh.
Production Balaji Motion Pictures.