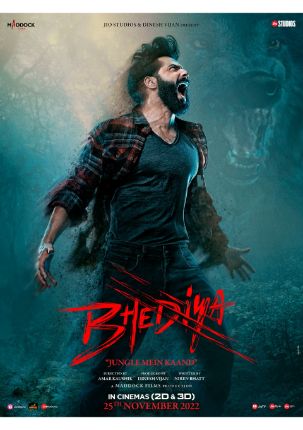 Bhediya
Category:
Relased: November 25, 2022
7.5
2h 36min
1080p
Directed by Amar Kaushik
Written by Niren Bhatt
Cast Varun Dhawan (Bhaskar Sharma / Bhediya). Kriti Sanon (Dr. Anika Mittal / Lady Bhediya). Abhishek Banerjee (Janardan 'Jana'). Deepak Dobriyal (Panda). Paalin Kabak (Jomin). Dosam Beyong (Prakash). Bahar Ul Islam (Neli). Mudang Pai (Ojha Myran). Saurabh Shukla (Bagga). Sharad Kelkar (Narrator). Rajkummar Rao (Vicky: Jaana and Bittu's friend, Rao reprises his role from Stree). Aparshakti Khurana (Bittu: Jaana and Vi's friend, Khurana reprises his role from Stree). Shraddha Kapoor (Unnamed: In the song 'Thumkeshwari Kapoor reprises her role from Stree). Joynal Abeden. Baharul Islam. Rina Rani (Charulata)
Language Hindi
Producers Sanjeev Mishra. Yogiraj Shetty. Dinesh Vijan. Pooja Vijan.
Production Jio Studios. Maddock Films.