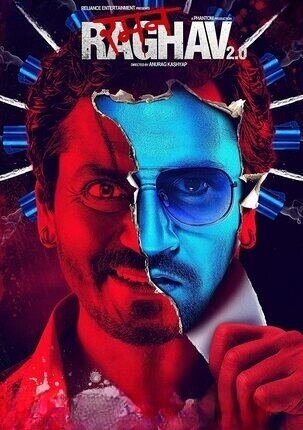 Raman Raghav 2.0
Category:
Relased: June 24, 2016
7.3
2 h 13 min
1080P
Directed by Anurag Kashyap.
Written by Anurag Kashyap.
Cast Nawazuddin Siddiqui(Ramanna (Raman)). Vicky Kaushal(Raghavan (Raghav)). Sobhita Dhulipala(Simmy). Mukesh Chhabra(Loan Shark). Anuschka Sawhney(Ankita). Vipin Sharma(Raghav's Father). Deepali Suryakant Badekar(Simmy's Maid). Ashok Lokhande(Sister's Husband). Harsh Singh(Sub Inspector (as Harssh Singh)). Rajesh Jais(ADCP – Farid Haq). Hitesh Dave(Constable Kamble) . Mukesh Agrohari(Cylinder Man). Vikash Bajpayee(Pipe Shopkeeper). Donald Burman(Chacha). Bikram Chetti(Watchman). Mohammad Farookh(Tea Boy). Aman Gill(Man 1 with Simmy). Pawan Gill(Man 2 with Simmy). Chirag Gupta(Forensic Man). Murari Kumar(Tea Stall Man). Devina Medda(Loan Shark's Wife).Chander Mohan. Sona Mohapatra(Singer at Club). Rhea Pagar(Violet). Kalidas Parthitan(Michael). Anik Ram Verma(Chacha's Neighbor). Robin Rebello(Anda Pav Delivery Boy). Amruta Subhash(Raman's Sister (Lakshmi)). Saksham Sudhija(Lakshmi's Son). Hirabai Tambe(Old Lady)
Language Hindi.
Producers Vivek b Agrawal. Vikas Bahl. Tanvi Gandhi. Manoj Kumar. Madhu Mantena Varma. Vikramaditya Motwane. Shibasish Sarkar. Jagbir Singh. Ranjan Singh. Dayanand Yadav.
Production Phantom Films.