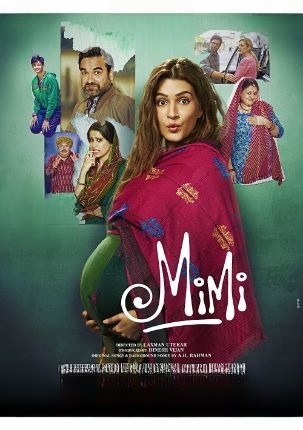 Mimi
Category:
Relased: July 26, 2021
7.9
2 h12 min
1080P
Directed by Rajesh Bhatia. Laxman Utekar
Written by Laxman Utekar. Rohan Shankar. Rohan Shankar. Laxman Utekar. Rohan Shankar. Samruoddhi Porey. Aayush Agrawal
Cast. Kriti Sanon(Mimi Rathod). Evelyn Edwards(Summer Smith). Pankaj Tripathi(Bhanu Pratap Pandey). Sai Tamhankar(Shama – Mimi's Friend). Manoj Pahwa(Maansingh – Mimi's Father). Supriya Pathak(Shobha – Mimi's Mother). Aidan Whytock(John Smith). Jacob Smith(Raj – Mimi's Son). Atmaja Pandey(Rekha – Bhanu's Wife). Nutan Surya(Kaikeyi – Bhanu's Mother). Sheikh Ishaque Mohammad(Aatif – Maansingh's Student). Kiyanshu(Raj – Newborn). Jacqueline Taalomi(Raj – One-month Old). Ekam(Raj – One-year Old). Amardeep Jha(Vasudha Mausi). Gyan Prakash(Amjad – Shama's Father). Jaya Bhattacharya(Dr. Asha Desai – IVF Expert). Pankaj Jha(Dilshad – The Grocer). Narottam Bain(Farooq – The Tailor). Anup Trivedi(Dr. Manoj Dubey). Omi Ji(Shannu Amma). Shravan(Kid at Shannu Amma's). Sunita Nagpal(Dr. Shalini – Gynaecologist). Ramesh Manchanda(Shambhu – Driver). Pramod Saini(Ramesh – Driver).
Language Hindi
Producers Kishor Athwal. Vishal Bajaj. Alex Anthony Fernandes. Smriti Jain. Sharada Karki. Pratik Nandkumar More. Bruce Patel. Sanjay Soni. Siddharth Soni. Dinesh Vijan.
Production Jio Studios.. Maddock Films. Skywalk Films