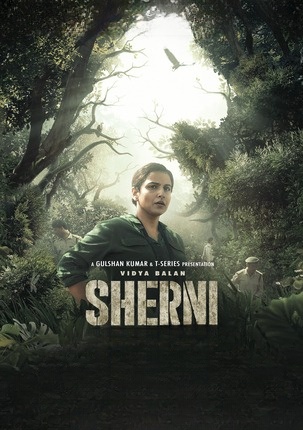 Sherni
Category:
Relased: June 18, 2021
6.8
2 hours 11 min
1080P
Directed by Amit Masurkar
Written by Aastha Tiku. Amit Masurkar. Yashasvi Mishra. Aastha Tiku
Cast Vidya Balan(Vidya Vincent). Vijay Raaz(Hassan Noorani). Gopal Datt(Saiprasad). Neeraj Kabi(Akhil Nangia). Sharat Saxena(Ranjan Rajhans aka Pintu). Brijendra Kala(Bansilal Bansal). Mukul Chadda(Pawan). Ila Arun(Pawan's Mother).Chobber Sidhu. Rayhan Kadar(Rayhan). Manoj Bakshi(Minister at Jungle Camp). Ashwini Ladekar(Female forest guard). Lokesh Mittal(DFO Mohan). Nidhi Diwan(Reshma). Mirza Kausar Ali(Hunter Ali). Devi Singh(Farmer Shooing Herd of Goats from The Field). Satyakam Anand(P.K. Singh). Suvrangshu Sarkar(Panelists at News Debate). Bhagyashree Dattatreya Rajurkar(Panelists at News Debate (as Bhagyashree Rajurkar)). Bharat Thakur(Gk Supporters). Mukesh Prajapati(Forest Guard). Krishna Singh Bisht(Newly Posted Forest Officer). Gajendra Verma(Gk Supporters). Pratik Kothari(News Anchor). Ram Rawat(GK crony). Shivanshu Mehta(Prem). Karuna Vishwanath(Eia Workshop Attendees).Raj Karmakar. Prateek Pachori(Babbal). Balendra Singh(Officer Who Tranquilizes T-12). Rajesh Bonik(Pk Supporters). Jasmeet Singh Narde(Student At Noorani'S Lecture (as Jasmeet)). Imam Hossain Saju(Playback Singer). Anoop Trivedi(Pyare Lal). Ekta Shri(Log Entry Supervisor ( Ekta Shri )). Mukesh Marko(Kabir). Balram Ojha(Jyoti's Husband). 
Language Hindi
Producers Syed Zaid Ali. Zohaib Ali. Vinod Bhanushali. Vicky Bhatia. Shiv Chanana. Alex Anthony Fernandes. Smriti Jain. Madhulika Jalali. Bhushan Kumar. Krishan Kumar. Vikram Malhotra. Amit Masurkar. Gaurav Mishra. Shikhaa Sharma. Adi Sharmaa. Karuna Vishwanath
Production Abundantia Entertainment.. Critical Mass Films. Skywalk Films