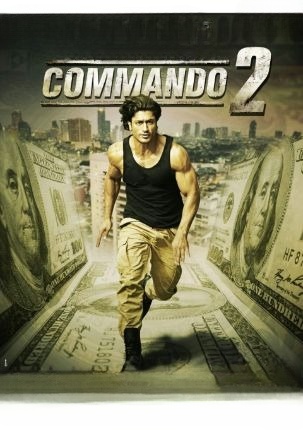 Commando 2
Category:
Relased: March 3, 2017
5.4
2 h 24 min
1080P
Directed by Deven Bhojani.
Written by Rajshri Sudhakar.
Cast Vidyut Jammwal(Karanvir Dogra (as Vidyut Jamwal)). Adah Sharma(Bhavna Reddy). Esha Gupta(Maria). Freddy Daruwala(Bhaktawar). Adnan(Barren Land Farmer). Noor Ali(Cop4 with Bhavna). Kannan Arunachalam(Shrinath Iyer). Avisha(Tara). Jassi Bagga(South Indian Farmer's Wife). Rosie Baglee(Dancer).Vansh Bhardwaj. Dayanand Borkar(Cop3 with Bhavna). Seema Chavan(Young Girl). Himesh Choudhary(Rajasthani Farmer). Aditi Dadich(Newsreporter Female). Sushil Dubey(Servant at HM house). Krishnakali Ganguli(Karan's Mother (as Krishnakala Ganguli)). Sumit Gulati(Zafar Hussain). Himank Gupta(News Reader Male). Himesh(Rajasthani Farmer).Adil Hussain. Sarla B. Kanji(Old Lady). Om Kanojiya(Rajasthani Son). Satish Kaushik(Dhariwal). Jimmy Kher(Siddharth Kher). Siddharth Kher(Jimmy). Atul Kumar(Reza). Neelam Kumar(Cabinet Minister). Shilpi Maheshwari(Dishank's Wife). Amar Mehta(Cop2 with Bhavna). Mona Mokha(Forensic Expert1).Suhail Nayyar. Gulshan Pandey(Senior Inspector (Zafar Intro)).
Language Hindi.
Producers Vivek b Agrawal. Akshay Gada. Dhaval Gada. Reshmaa Kadakia. Ravichand Nallappa. Aashin A. Shah. Vipul Amrutlal Shah. Adi Sharmaa.
Production Pen Movies. Reliance Entertainment. Sunshine Pictures.