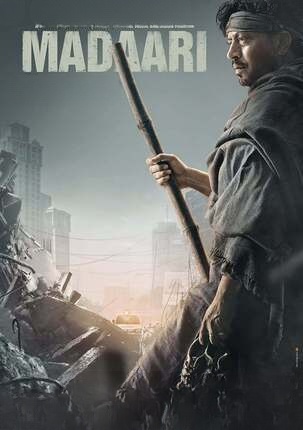 Madaari
Category:
Relased: July 22, 2016
7.6
2 h 13 min
1080P
Directed by Nishikant Kamat.
Written by Ritesh Shah.
Cast Irrfan Khan(Nirmal Kumar). Jimmy Shergill(Nachiket Verma). Vishesh Bansal(Rohan Goswami). Tushar Dalvi(Prashant Goswami). Nitesh Pandey(Sanjay Jagtap) . Kedar Bagaria(Apurva Kumar). Manoj Bakshi(Govind Bakshi). Sunil Bedi(Shivender Singh). Rajat Bhalla(Political Aide). Satyajeet Bhattacharya(Abhay Sahani (as Satyajit Bhattacharya)). Akash Dabas(Nachiket's assistant). Rahul Dhir(Goon). Jitendra Gupta(Home Secretary). Rajiv Gupta(Mr. Bansal). Vikas Jain(Cop at the bus stand). Sadhil Kapoor(Cheeku).Vijay Kaushik. Sabir Khan(Jogi). Ravi Mahasabde(Nachiket's assistant). Ravi Mahashabde(Arshad). Ayesha Raza Mishra(Goswami's Wife (as Ayesha Raza)). Pallavi Mishra(Wadia's Wife). Aakash Negi(Analyst). Purva Parag(Nirmal's Wife). Sachin Pathak(Lodge Receptionist). Manish Raj(Cop at the bus stand). Dr. Vivek Rajpal(Prime Minister). Sanjeev Sahay(Opposition Leader). Umesh Shrivastav(NIA chief Raghuvaran). Deepak Shroff(Fareed Wadia). Gurvinder Singh(Army Officer). Vikrant Singh(Barber). Chandraprakash Thakur(Structural Engineer). Neha Atri(Wife of Nachiket Verma (uncredited))
Language Hindi.
Producers Rakesh Bhagwani. Kshitiz Bhardwaj. Deepshika Deshmukh. Easemytrip. Kamal Jain. Manohar P. Kanungo. Shailja Kejriwal. Madan Paliwal. Nishant Pitti. Ajay Rai. Vinay G. Rai. Sutapa Sikdar. Navmeet Singh. Shaailesh R Singh. Hitesh Thakkar.
Production Paramhans Creations. Saptarishi Cinevision.