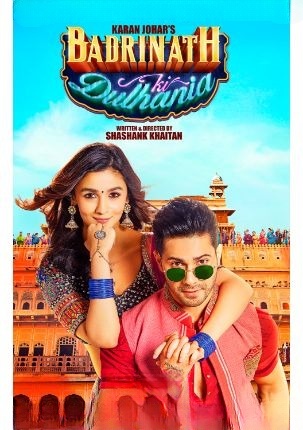 Badrinath Ki Dulhania
Category:
Relased: March 10, 2017
6.1
2 h 19 min
1080P
Directed by Shashank Khaitan.
Written by Shashank Khaitan.
Cast Varun Dhawan(Badrinath Bansal). Alia Bhatt(Vaidehi Trivedi). Sahil Vaid(Somdev Mishra). Swanand Kirkire(Mr. Trivedi). Rituraj Singh(Badrinath's father (as Ritu Raj Singh)). Yash Sinha(Alok). Rajendra Sethi(Bhushan's father).Brahma Mishra. Shweta Basu Prasad(Urmila Bansal (as Shweta Prasad)). Leena Prabhu(Badrinath's mother). Kanupriya Pandit(Vaidehi's mother). Sukhmani Lamba(Kritika). Aakanksha Singh(Kiran (as Akansha Singh)). Gauahar Khan(Laxmi Shankar (as Gauhar Khan)). Aparshakti Khurana(Bhushan). Gaurav Pandey(Gurmeet). Himanshu Ahluwalia(Interview Man). Rosie Baglee(Dancer). Dhawal Arun Barbhaya(Father in the hospital). Rita Bharadwaj(Mrs. Shukla). Nirmal Chawdhary(Man with SUV offer). Krishna Das(Interview Woman). Kay Dash(Chinese Cop). Vincent Dee(Singapore Watchman). Ankush Deshmukh(MC (Prakash's Wedding)). Harish Dhuri(Doctor Checking Trivedi). Vivek Sharma Dimple(Man sleeping in the bus). Florence(Lein). Pooja Ghosh(English Teacher (as Puja Ghosh)). Praneel Gogoi(Boy with the report card). Rupa Gogoi(Mother of boy with report card). Ajitesh Gupta(Kritika's Prospect #2(Naukri)). Jerry Hoh(Airline Security). Ann Huang(Old lady in laundry room).
Language Hindi.
Producers Hiroo Johar. Karan Johar. Apoorva Mehta. Ajay Sharma. Somesh Shivraj.
Production Dharma Productions.