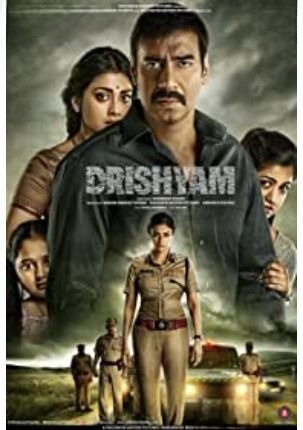 Drishyam
Category:
Relased: July 31, 2015
8.2
2 h 43 min
1080P
Directed by Nishikant Kamat.
Written by Upendra Sidhaye.
Cast Ajay Devgn(Vijay Salgaonkar). Shriya Saran(Nandini Salgaonkar). Tabu(IGP Meera Deshmukh). Rajat Kapoor(Mahesh Deshmukh). Ishita Dutta(Anju Salgaonkar). Mrunal Jadhav(Anu Salgaonkar). Rishab Chadha(Sameer Deshmukh (as Rishabh Chadda)). Prasanna Ketkar(Sr. Insp. Shrikant Prabhu). Kamlesh Sawant(SI Laxmikant Gaitonde). Yogesh Sonam(Inspector Vinayak Sawant). Yogesh Soman(Insp. Vinayak Sawant). Prathamesh Parab(Jose (as Prathmesh Parab)). Sharad Bhutadiya(Martin Uncle). Samar Parshuram(Contractor Rane). Ashish Warang(New Senior Inspector (as Aashish Warang)). Anil Nagarkar(Satish Naik). Tarun Shukla(Swami Chinmayanand). Smita Inamdar(School Principal). Sanjay Bhatia(ACP Allwin Rego). Mahesh Rale(Hawaldar at New Police Station (as Mahesh Rele)). Ajit Satbhai(Nandini's Father). Amruta Satbhai(Nandini's Mother). Pradeep Sharma(Old Uncle at Martin's). Jalender Ghagre(Digambar). Shiva Naik(Salvi). Vikas Kumar(Alex). Anil Rasal(Peter – Martin's Chaiwala). Rakesh Yadav(Cell Phone Shop Owner). Sonika Chopra(Habeas Corpus Lawyer). Haji Karim(Habeas Corpus Client). Rajesh More(Kadamba Bus Conductor). Abhay Khadapkar(Private Bus Conductor). Sachin Pathak(Lodge Owner Manager). Tanik Singh(Waiter at Chinese Stall). Kishor Jayakar(Ashok Hotel Manager). Ratnesh Mani(Cyber Cell Kanvinde). Sarita Singh(India TV Reporter (as Sarita Singh – India TV)). Nishta(News Anchor). Manoj Mishra(Tracing Sub-Inspector). Tagore Babu(Tracing Inspector). Regidi Venkataramana Naidu(Parcel Delivery Boy). Jayram Behera(Mason at Vijay's Store Room). Nandkishor(Projectionist). Machhindra Bhaskar(Police Constable Who Delivers Fax). Sailesh Sharma(Pick-Up Cop (as Sailesh Sharma)). Cyril Colaco(Police Jeep Driver). Dilip Angre(Auto Driver). Sachin Gujjar(Hanging Criminal). Vipin Kumar Singh(Quarky Worker with Broken Chappal). Divya Sresht(Patron at Ashok Restaurant (as Divya Shreshtha)). Rajkumar Yadav(Man Being Harassed). Satish Trivedi(Guard at Guest House Gate). Manik Rao(Guy Reading Newspaper (as Manik C. Rao)). Vignesh Shetty(Guy Watching News at Martin's). Manoj Mishra(1st Guy in ATM). Vibhuti Chamria(1st Girl in ATM). Pritesh Shanbhag(2nd Guy in ATM). Kirti Kolwankar(Patron #1 at Pizza Palour). Divya Babbar(Patron #2 at Pizza Palour). Ashok Kumar Beniwal(IP's Officer 1 in Meera Cabin (as Ashok Beniwal)). Arun Sakpal(IP's Officer 2 in Meera Cabin). Satish Deshmukh(Interrogator #1). Pradeep Dalvi(Interrogator #2). Anil Rabade(Interrogator #3). Sandeep Pandey(Interrogator #4). Lakhan Kachole(Digging Worker #1). Sunil Pawar(Digging Worker #2). Yogesh Joshi(Neighbour #1). Pankaj(Neighbour #2) . Karim Hajee(Brother of Accused). Himanshu Joshi(Shriya's Brother). Behnam Khedri(Singer)
Languages Hindi. English.
Producers Sanjay Agrawal. Gayatri Gulati. Sanjeev Joshi. Kanchan Marathe. Jaswinder Pabbla. Abhishek Pathak. Amita Pathak. Kumar Mangat Pathak. Neelam Pathak. Sarita Patil. Vignesh Shetty.
Production Panorama Studios. Rajkumar Theaters Private Limited. Viacom18 Motion Pictures.