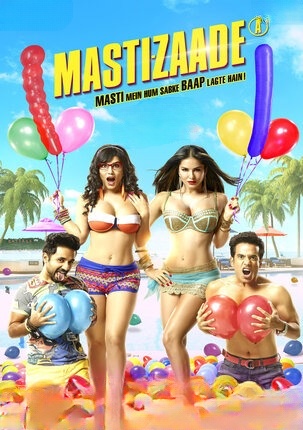 Mastizaade
Category:
Directed by Milap Zaveri.
Written by Milap Zaveri. Mushtaq Sheikh. Milap Zaveri.
Cast Tusshar Kapoor(Sunny Kele (as Tusshar)). Vir Das(Aditya Chothia). Sunny Leone(Laila Lele / Lily Lele). Govardhan Asrani(U.R. Ashit). Shaad Randhawa(Deshpremi Singh). Suresh Menon(Son Das). Sushmita Mukherjee(Seema Lele). Riteish Deshmukh(Deep). Harshada Kulkarni(Alcoholic Girl 1). Rina Charaniya(Alcoholic Girl 2). Vivek Vaswani(Boss D Wala). Karan Dewani(Shekhar). Kurush Deboo(Alcoholics Group Head). Munish Makhija(Sex Addicts Group Head). Audrey D'Sylva(Sex Addicts Girl 1). Bhavna Karekar(Sex Addicts Girl 2). Annapurna Bhairi(Lady in Temple (as Annapurna Vitthal Bhairi)). Jehangir Karkaria(Husband of Lady in Temple). Prema Mehta(Hostess of Ad Shoot). Dinky Kapoor(Hot Mother). Jaitra Bhatt(Kid on Crane). Murlidhar Guru(Dead Man). Nakshatra Kumar(Kid at Funeral). Uday Nene(Chotu). Bhupesh Soni(Old Man (Laila's Intro)). Arjun Raina(Runner 1). Kanwalpreet Singh(Runner 2). Mohit Kumar(Runner 3). Gizele Thakral(Titli Boobna). Rajesh S. Khatri(Goti Soda Client Father). Pritesh Sadha(Goti Soda Client Son). Vandita Srivastava(Sex Change Girl with Tusshar). Avneet Kalra(Sex Change Boy with Tusshar). Bruna Abdullah(Bunty). Julia Francisca(Married Woman with Vir). Varsha Kapkar(Sunny Leone's Body Double) .Akash Sisodia. Zachary Coffin(Pole Dancing Competition Emcee (uncredited))
Language Hindi.
Producers Sahni Bob. Anoop Ram Kumar. Pritish Nandy. Rangita Pritish Nandy.
Production Pritish Nandy Communications (PNC).