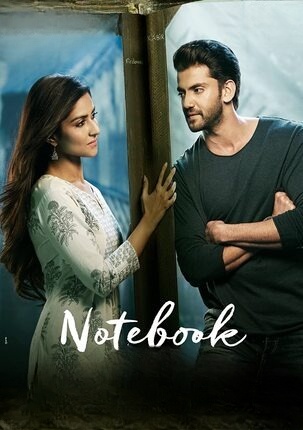 Notebook
Category:
Directed by Nitin Kakkar.
Written by Sharib Hashmi. Payal Ashar. Nithiwat Tharatorn. Sopana Chaowwiwatkul. Thodsapon Thiptinnakorn. Supalerk Ningsanond.
Cast Zaheer Iqbal(Kabir). Pranutan Bahl(Firdaus). Mir Mohammed Mehroos(Imran (as Mir Mehrooz)). Mir Mohammed Zayan(Tariq (as Mir Zayaan)). Soliha Maqbool(Shama). Baba Hatim(Wagar). Adiba Bhat(Dua). Hafsa Ashraf(Igrah (as Hafsa Ashraf Katoo)). Madikha(Imran's Sister (as Madikha Parvez Ratta)). Bareen(Bareen (as Bareen Faheem)). Mozim Bhat(Junaid). Mir Sarwar(Yakub – Imran's Father). Hemant Kher(Principal). Shrysh Zutshi(Vikram). Tabrez Madani(Principal – PVT School). Malik Mushtaq(Junaid's Father). Saroj Sharma(Junaid's Mother). Farhana Bhat(Dolly). Rani Bhan(Warden). Tariq Jameel(Boatman Bhaijaan). Neelofer(Imran's Mother). Ulfat Haroon(Tariq's Mother). Rockey Raina(Ahmed Qadri). Shahnawaz Bhat(Rickshaw Driver). Mohammad Farrukh(Boatman Vegetable Vendor). Saniya Mir(Pregnant Girl). Iqbal Badroo(Imran's Neighbour). Zahoor Zaidi(Hameed Chacha). Shahid Latief(Male Doctor). Shaheen Mahajan(Female Doctor). Shahid Gulfam(Police Officer). Kosar(Young Yakub). Hibba Ashraf(Young Firdaus). Ahmed(Young Kabir (as Ahmed Rigoo)). Hasik(Young Junaid). Usmaan(Gully Cricket Boy). Fasil(Gully Cricket Boy). Dawar(Gully Cricket Boy). Saadi(Bully Kid With Young Kabir). Kafeel(Bully Kid With Young Kabir). Saadat(Jammu Boy). Muneem(Jammu Boy). Shahid Shabir(Jammu Boy). Kasim(Shepard Boy – PEER). Suhail(Swimming Boy). Mohammad Haris(Swimming Boy) .Neelofar Hamid. Mohammad Salman Khan(Salman). Vikash Rajput(Vikash Rajput). Farrukh Seyer(Boatman Vegetablele Vendor). Chobber Sidhu(Zhahiir). Muazzam Bhat(Ka (uncredited))
Language Hindi.
Producers Rohan Barhate. Khawar Jamsheed. Salman Khan. Murad Khetani. Niraj Kothari. Shamiraah Nambiar. Umesh Pawar. Yogiraj Shetty. Nishan Singh. Ashwin Varde.
Production Cine1 Studios. Salman Khan Films.