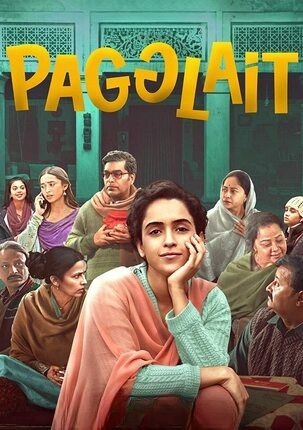 Pagglait
Category:
Relased: March 26, 2021
6.9
1 h 54 min
1080P
Directed by Umesh Bist
Written by Umesh Bist. Umesh Bist
Cast Sanya Malhotra(Sandhya Giri). Sayani Gupta(Akansha Roy). Sheeba Chaddha(Usha Giri, Astik's mother). Ashutosh Rana(Shivendra Giri, Astik's father). Chetan Sharma(Alok, Astik's younger brother). Natasha Rastogi(Alka Pandey, Sandhya's mother). Bhupesh Pandya(Girish Pandey, Sandhya's father). Aasif Khan(Parchun, a neighbour of the Giris). Raghuvir Yadav(Roshan Sethi, referred to as Tayyaji). Yamini Singh(Janaki, Shivendra's sister). Jameel Khan(Ghanshyam, Janaki's husband, who is a banker). Rajesh Tailang(Tarun Sethi, Shivendra's younger brother). Ananya Khare(Rashmi, Tarun's wife). Meghna Malik(Tulika, Shivendra's sister-in-law). Shruti Sharma(Nazia Zaidi, Sandhya's friend). Nakul Roshan Sahdev(Aditya, Tarun's son). Ashlesha Thakur(Aditi, Tarun's daughter). Sachin Chaudhary(Achint ; Tulika's son). Saroj Singh(Dadi, Astik's grandmother). Sharib Hashmi(B.K. Arora). Lateesha Dorik(Jhumri). Harneet Kaur(Bimla). Vikas Rai(Waiter in Cafe). Rahul Tarar(Rana)
Language Hindi
Producers Arun Singh Dikky. Rishabh Dixit. Guneet Dogra. Achin Jain. Ekta Kapoor. Shobha Kapoor. Guneet Monga. Ruchikaa Kapoor Sheikh.
Production Balaji Motion Pictures. Sikhya Entertainment