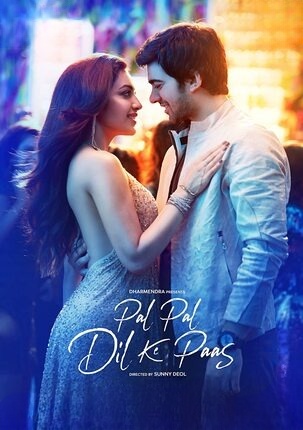 Pal Pal Dil Ke Paas
Category:
Relased: September 20, 2019
4.5
2 h 34 min
1080P
Directed by Sunny Deol.
Written by Ravi Shankaran.
Cast Karan Deol(Karan Sehgal). Sahher Bambba(Saher Sethi). Kallirroi Tziafeta(Karan's mother). Swarit Sur(Young Karan). Suresh Sur(Karan's Father). Ritika Thakur(Aditi). Kapil Negi(Aditi's Father). Mahesh Pillai(Kukreja). Diksha Bahl(Vaishali). Anuradha Kalia(Nimmo Aunty). Gs Arora(Goggi Uncle (as G.S. Arora)). Lotty Allaric(Sukho Aunty). Arsh Wahi(Rohan). Nupur Nagpal(Natasha Sabharwal). Sushant Mohindru(Bonny). Kamini Khanna(Saher's Grandmother). Sachin Khedekar(Ajay Sethi). Simone Singh(Vandana Sethi). Rishi Singh(Saher's Uncle). Bhawna Aneja(Saher's Aunty). Suhani Sethi(Sachi Sethi). Rohan Singh(Kavish). Agastya(Krish). Aritro Rudraneil Banerjee(Stand Up Comedian (as Auritro Bannerjee)). Meghna Malik(Ratna Narang). Akash Ahuja(Viren Narang (as Aakash Ahuja)). Akash Dhar(Sushant Narang (as Aakash Dhar)). Reuben Israel(Viren's Father). Mannu Sandhu(Mrs. Sushant). Vijayant Kohli(Kapil Gupta). Sanjeev Seth(Sharma / P.A. to Ratna Narang). Ravi Dudeja(Mr. Sabharwal). Madhu Kandhari Rajesh(Mrs. Sabharwal (as Madhu Kandhari)). Divij Ghorpade(Vape Artist). Ranjit Deval(Doctor). I.P. Sawhney(Assistant Commissioner of Police). Vijay Kumar(Lawyer). Nitin Khanna(Cyber Crime Officer). Firoz Khan(Police Officer). Mohan Kant(Party Chief). Kavita Pais(Lady in the Hospital). Ananya Bhattacharya(Nurse (as Annanya Bhatacharya)). Meetu Nagrani(Channel Reporter). Sumit Chandra(Journalist). Krishan Rathee(Tourist) .Muntazir Ahmad. Gyanesh(Reporter). Komal Sachdeva(News Reporter)
Language Hindi.
Producers Rukhshida David. Varun Khokher. Navey Mittar. Ilana Rossein. Suniel S. Saini. Ravi Sarin. Johari Tailor.
Production Sunny Sounds. Vijayta Films. Zee Studios.