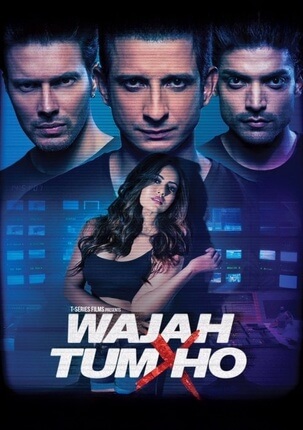 Wajah Tum Ho
Category:
Relased: December 16, 2016
4.4
2 h 16 min
1080P
Directed by Vishal Pandya.
Written by Vishal Pandya. Virag Mishra. Vijei Joshi.
Cast Sharman Joshi(Kabir Deshmukh). Sana Khan(Siya). Gurmeet Choudhary(Ranbir Bajaj). Rajneesh Duggal(Rahul (as Rajniesh Duggall)). Himanshu Malhotra(Karan Parekh (as Himmanshoo Ashok Malhotra)). Prarthana Behere(Rajni (as Prarthana Behre)). Sherlyn Chopra(Guest Appearance). Zareen Khan(Guest Appearance) . Yash Ahlawat(Commissioner). Resham Arora(Judge Rahul Case). Vivek Bhatnagar(Lodge Manager). Komal Chhabria(Mrs. Sabarwal). Diwakar Dhyani(GTN Tech Head (as Diwakar Dhayani)). Deepen Gandhi(Head of Cyber Crime Branch). Yugal Garg(Young man in lodge). Sandesh Jadhav(Ramesh Sarnaik). Deepak Kalra(Judge Rajni Case). Leena Kapoor(Girl with Karan). Ashita Kaushik(Receptionist). Suhas Khandke(Bijendra Sharma (as Suhaas Khandke)). Shilpa Mehta(Nanny). Virag Mishra(Bribe Man). Meira Omar(Mit Receptionist). Arup Paul(Doctor). Swapnnil Ralkar(Mac). Rahul Rana(Kabir's Assistance). Javed Rizvi(Chanderpal (ChanduMechanic) (as Javed Rizvi Jarehavi)). Rajesh Sahu(Garage Mechanic). Manisha Saxena(Rahul's Secretary). Mehnaz Shroff(Maid). Arvind Wahi(Mr. Sabarwal). Sarika Yadav(Young woman in lodge)
Language Hindi.
Producers Sanjay Bector. Vivek Bhatnagar. Hanif Chunawala. Bhushan Kumar. Krishan Kumar. Yogiraj Shetty.
Production T-Series.