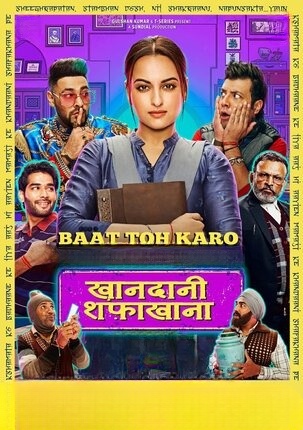 Khandaani Shafakhana
Category:
Relased: August 2, 2019
4.3
2 h 16 min
1080P
Directed by Shilpi Dasgupta.
Written by Gautam Mehra.
Cast Sonakshi Sinha(Babita 'Baby' Bedi). Badshah(Gabru Ghatak). Varun Sharma(Bhooshit Bedi). Priyansh Jora(Lemon Hero). Annu Kapoor(Advocate Tagra). Rajiv Gupta(Chachaji). Kulbhushan Kharbanda(Mamaji). Rajesh Sharma(Judge). Diana Penty(Suneeta). Suniel Shetty(Self (as Sunil Shetty)). Raveena Tandon(Self). Khushi Hajare(Young Baby Bedi). Nadira Babbar(Mrs. Bedi). Rahaao(News Reader) . Uday Atroliya(Senior Dr.). Dimple Bagroy(Woman With Bindi). Annapurna Bhairi(Nurse). Simranjeet Bhalla(Sardar Jeweller). Sukha Bouncer(Nancy). Rajender Chaudhary(Bansal). Saurabh Chauhan(Shabnam). Sorabh Chauhan(Shabnam). Hobby Dhaliwal(Pradhaan). Ajay Dogra(Chhichora). Ghanshyam Garg(Khubi Ram). Hardeep Gill(Shyama Pehalwan). Pradeep Gupta(Man With Thin Moustache). Vansh Jain(Little Lemon Hero). Varun Kashyap(Property Broker). Divjyot Kaur(Chinki). Sukhmani Kaur(Soup Girl). Tejinder Kaur(Female Criminal). Ashwini Kaushal(Dr.Bindra / Boss). Abhi Kesar(Son Of Paraandi Wali). Arun Khanna(Dr. Byotra). Indra Mansukhani(Old Aunty). Honey Mattu(Helper). Ankita Mithal(Devrani (as Ankita Mittal)). Sandeep Nahar(Deepu palta). Ashok Pathak(Bengali Baba). Suhani Popli(Shailly From Shidden). Vishal Om Prakash(Jhalla Halwai). Bharat Rana(Lalloo Salesman). Dolly Saddal(Paraandi Wali). Goni Sagoo(Saas). Shireen Sewani(Sheetu). Krishna Sharma(Kite Flying Brat). Neha Sharma(Chicken Pox Girl). 
Language Hindi.
Producers Shikha Ahluwalia. Aakash Jain. Mahaveer Jain. Piyush Jain. Karan Kasle. Saurabh Khurana. Bhushan Kumar. Divya Khosla Kumar. Krishna Kumar. Mrighdeep Lamba. Ashwani Mishra. Pinkesh Nahar. Ranjana Sethi. Rohit Kumar Shah. Rajesh Sharma.
Production Sundial Productions. T-Series Films. T-Series.