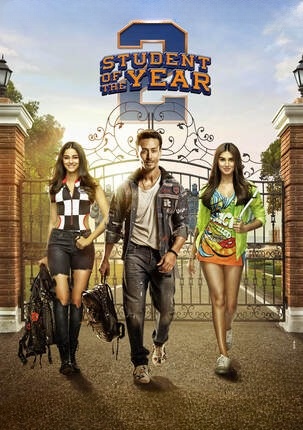 Student of the Year 2
Category:
Relased: May 10, 2019
2.1
2 h 26 min
1080P
Directed by Punit Malhotra.
Written by Karan Johar. Cast (in credits order) complete, awaiting verification . Tiger Shrof. Ananya Panda. Tara Sutari. Aditya Sea. Manoj Pahw. Ayesha Raza Mishr. Rajesh Kuma. Manasi Joshi Ro. Samir Son. Gul Pana.
Cast Tiger Shroff(Rohan Sachdev). Ananya Panday(Shreya Randhawa (as Ananya Pandey)). Tara Sutaria(Mridula Chawla aka Mia). Aditya Seal(Manav Randhawa). Manoj Pahwa(Coach Mahipal). Ayesha Raza Mishra(Principal Singh (Pishori College) (as Ayesha Raza)). Rajesh Kumar(Chacha (Rohan's Uncle)). Manasi Joshi Roy(Chachi (Rohan's Aunty)). Samir Soni(Principal Gujral (St. Teresa College)). Gul Panag(Coach Kuljeet). Manjot Singh(Commentator Dimpy). Sahil Anand(Commentator Jeet). Harsh Beniwal(Puggi). Daljeet Singh Gujral(Abdullah Wahab). Abhishek Bajaj(Abhishek Sharma). Chetan Pandit(Mr. Randhawa (Shreya and Manav's Father)). Will Smith(Special Appearance in 'The Jawaani Song' and 'Radha Teri Chunri"). Alia Bhatt(Special Appearance in 'The Hook Up Song'). Samreen Kaur Hansi(Mia's Mom (as Samreen Kaur)). Amit Malik(Pishori Boy 1). Darwin Thapa(Pishori Boy 2). Neel Gangdani(Pishori Boy 3). Anubhav Nanda(Pishori Boy 4). Abhinav Verma(St. Teresa Boy 1). Sanjoy Sandhu(St. Teresa Boy 2). Prateek Balara(St. Teresa Boy 3). Rahul Sharma(St. Teresa Boy 4). Ashish Drall(St. Teresa Boy 5). Guneet Sharma(St. Teresa Boy 6). Rohit Dandwani(St. Teresa Boy 7). Sumeet Samnani(Monu). Roan(Aussie). Madhu Sachdeva(Sudha Chandok). Rajveer Singh(Security Lahiri Singh). 
Language Hindi.
Producers Naman Chouhan. Parth Dholakia. Hiroo Johar. Karan Johar. Hetvi Karia. Zafar Mehdi. Apoorva Mehta. Kulthep Narula. Anand Raichura. Arjun Singh. Amaru Son. Mayank Tiwari.
Production Fox STAR Studios. Dharma Productions. SIF 309 Film Music.