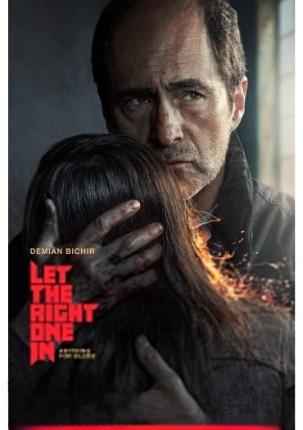 Let the Right One In
Directed by Seith Mann. Viet Nguyen. Eva Sørhaug. Sarah Boyd. Hiromi Kamata. Chloe Okuno.
Written by Andrew Hinderaker. Andrew Hinderaker. John Ajvide Lindqvist. Ren Dara Santiago. Ren Dara Santiago. David Turkel. David Turkel. Laura Marks. Mfoniso Udofia.
Cast Anika Noni Rose (Naomi Cole 1). Grace Gummer (Claire Logan 1). Madison Taylor Baez (Eleanor Kane 1). Ian Foreman (Isaiah Cole 1). Jacob Buster (Peter Logan 1). Kevin Carroll (Zeke Dawes 1). Jimmie Saito (Ben Jones). Nick Stahl (Matthew Dean). Fernanda Andrade (Elizabeth Kane). Caroline Neff (Danielle Wilson). Josh Wingate (Roland). Zeljko Ivanek (Arthur Logan). Ato Essandoh (Frank). Michael Patrick Thornton (Father Sean). Chance Smith (Abel). Rahim Barry (Jeremiah). Jadyn Pilliner-Myles (Manny). Marsuvio Sánchez (Sous Chef). Will Fitz (Bar Patron). Dale Dickey (Debra Harper). Cole Doman (Chris). Don Darryl Rivera (Errol Valdez). Kaden Amari Anderson (Boy 3). Duke Lafoon (Man). Joaopaulo Malheiro (Boy 2). Silvestre Rasuk (Cook #1). Frankie J. Alvarez (Dr. Daniel Madigan). Quincy Dunn-Baker (Jared). David Lavine (Bart Pavlica). Bianca Norwood (Christina Delgado). Opal Besson (Dr. Shirley Jensen). Gabriel Ebert (Nathaniel). Roger Brenner (EMT). Ari Blinder (Cyrus). Brett Schneider (Brett the Magician). Shavonna Banks (Club Leader).
Language English.
Producers Marty Adelstein. Tami Alfasi. Alissa Bachner. Demián Bichir. Alexander Yves Brunner. Becky Clements. Jamie Crowell. Ryan Denmark. Andrew Hinderaker. Paul Leonardo Jr.. Seith Mann. Laura Marks. Carl Molinder. Simon Oakes. Kerry Orent. Ben Rosenblatt. Mfoniso Udofia.
Production Hammer Films. Tomorrow Studios.
No. of Seasons 1
No. of Episodes 10
Status Finished (4)