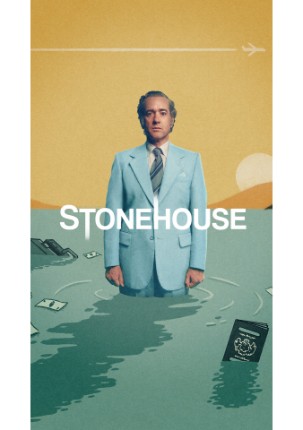 Stonehouse
Directed by Jon S. Baird.
Written by John Preston.
Cast Simon Greenall (Speaker at The House of Commons). Kevin McNally (Harold Wilson). Dorothy Atkinson (Betty Boothroyd). Keeley Hawes (Barbara Stonehouse). Orla Hill (Jane Stonehouse). Aoife Checkland (Julia Stonehouse). Emer Heatley (Sheila Buckley). Archie Barnes (Matthew Stonehouse). Celia Robertson (Civil Servant). Adrian Metcalfe (Teller). Igor Grabuzov (Alexander Marek). Sam Lockwood (Desk Clerk). Rich Keeble (Producer). Tiana Arnold (Make Up Artist). Jamila Wingett (Brixton Journalist). Paul Westwood (Miami Reporter). Alex Caan (Interviewer). Dainton Anderson (Young Matthew Stonehouse).
Language English.
Producers Jon S. Baird. Caroline Bean. Neil Blair. Jess Cameron-Lewis. Polly Hill. Ruth Kenley-Letts. Matthew Macfadyen. John Preston. Diederick Santer. Ellie Wood.
Production Snowed-In Productions. Clearwood Films. ITV – Independent Television.
No. of Seasons 1
No. of Episodes 3
Status Finished (2023–2023)