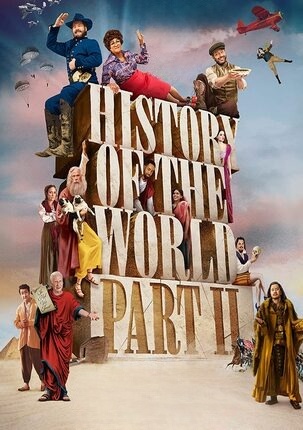 History of the World: Part II
Directed by Alice Mathias. David Stassen. Lance Bangs. Nick Kroll.
Written by Ike Barinholtz. Emmy Blotnick. Guy Branum. Mel Brooks. Mel Brooks. Owen Burke. Adam Countee. Lance Crouther. Ana Fabrega. Fran Gillespie. Janelle James. Jennifer Kim. Nick Kroll. Sergio Serna. David Stassen. Wanda Sykes.
Cast Ike Barinholtz (Ulysses Grant). Nick Kroll (Schmuck Mudman). Wanda Sykes (Harriet Tubman). Edgar Blackmon (Private Johnson). Colton Dunn (Conrad Chisholm). Jay Ellis (Jesus). Nick Robinson (Robert Todd Lincoln). J.B. Smoove (Luke). Kym Whitley (Florynce Kennedy). Owen Burke (Boris). Katherine LaVeaux. Pamela Adlon (Fanny Mudman). Tim Baltz (Lt. Henry Honeybeard). Zazie Beetz (Mary Magdalene). Ronny Chieng (Kublai Khan). Dove Cameron (Anastasia Romanov). Marla Gibbs (Ruby Seale). Richard Kind (Saint Peter). Zahn McClarnon (min/Epgoes). Charles Melton (Joshy Mudman). Tyler James Williams (Mason Dixon). Jason 'Wee Man' Acuña (Russian). Mitra Jouhari (Cavewoman). Seth Morris (Freud Patient). Johnny Knoxville (Rasputin). James Adomian (President Richard Nixon).
Language English.
Producers Ike Barinholtz. Mel Brooks. Owen Burke. Trish Hadley. Nick Kroll. Alice Mathias. Erin Owens. Kevin Salter. Christie Smith. David Stassen. Wanda Sykes. Shelby Van Vliet. Mara B. Waldman.
Production 20th Television. Searchlight Television.
No. of Seasons 1
No. of Episodes 8
Status On Going (2023–)