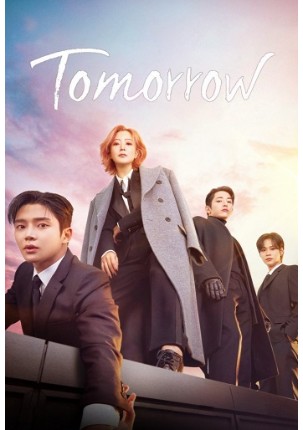 Tomorrow
Directed by Sung Chi-wook. Tae-Yun Kim.
Written by Park Ran.
Cast Kim Ro Woon( Choi Joon-woong 1) . Lee Soo-hyuk( Park Joong-gil 1) . Ji-On Yoon( Lim Ryung-gu 1) . Kim Hae-sook( The Jade Emperor 1) . Nu-ri Kim( Jang Jae-hee). Yoon Yoo-sun( Jeong-im). Jung Dong-geun( Maeng Jang-hyun). Park Yoo-mil( Ji Hwa-ja). Min Ji-ah( Lim Yu-hwa). Kim Seo-Yeon( Choi Min-yeong). Kim Chil-Doo( Mr. Baek). Seung-Yoon Kang( Kang Woo-jin). Lee Noh-Ah( Heo Na-young). Sung-Rok Ryu( Namgoong Jae-su). Kal So-won( Young Goo Ryeon). Sang-Hoon Park( Young Park Joong-gil). Park Hoon( Ha Dae-soo). Jo In( Noh Eun-bi). Kwak Ja-hyoung( Kim Woong-jun). Chae-Eun Kim( Kim Hye-won). Jeong Jae Eun( Park Joong-gil's Mother). Won-Ho Shin( Seol In-u). Hae-in Han( Shin Ye-na). Kim Ji-Hoon( Young Namgoong Jae-su). Park Jae-wan( Records Staff). Ki-Hyuk Lee( Lim Yu-hwa's Husband). Jun-ha Jeong( Chief Jeong). Ha Dong-joon( Goo Ryeon's Father). Seo Yoon-Hyuk( Young Lim Ryung-gu). Kwang-Jin Jeon( Seo Young-bin). Kim Young-ok( Lee Jeong-moon). Hak-Yeon Cha( Kim Hoon). Yo-sep Song( CEO Lim). Jin-Woong Min( Betamale). Lee Ji-Won( Cha Yoon-hee). Jang Eui-don( Judge). Moo-Song Jeon( Lee Young-cheon). Bae Jeong-nam( Scammer). Hyuk Kwon( Joon-woong's Father). Hee Jung Park( Jeon Bo-yun) . Han Ji-Hyo( Young Lee Jeong-moo). Dong-hwa Kim( Joseon Boy). Kim Mi-ra( Kim Hoon's Mother). Geun-Young Kim( Kim Hui-yeong). Lee Jung-Jun( Young Lee Young-cheon). Kim Eun-Jin( Veterinarian). Hye Rin Ryu( Scammer). Kim Jung-Chul( Dong-chil). Ok-joo Yoo( Restaurant Worker). So-Eul Park( Lee Ha-eun). Ki Hwan( Reporter). Ko Jae-hyun( Cha Yoon-jae). Kyung-Hoon Lee( Young Kim Hoon). Joon-Kyung Kim( Tak Nam-il). Shin Hee-Chul( Building Jumper). Yong-rim Kim( Yoo Bok-hee). Jung Young-Do( Grim Reaper). Kim Ha-Jin( Kang Woo-jin's Aunt). Yoo Yeong-bok( Kim Hui-yeong's Husband). Park Yoon-Young( Young Yoo Bok-hee). Lee Sang-hwa( Governor). Ki-Hwan Shin( School Bully). Jung Se-hyun( Sunset). Son Seung-Hoon( Japanese Soldier). Yoon Hyo Sik( Photographer). Yu Seung-il( Min In-soo). Kim Min-so( Jung Bo-ram). Dae-han Kim( Grim Reaper). Lee Kyung-Oh( Chairman Tak Jung-gu). Park Young-bok( Bridge Jumper). Lee Sang-Hee( Villager). Uhm Tae-Ok( Landlord). Park Joon-Sang( Attorney). Heung-rae Kim( Han Man-sik). Park Ye-Chan( Bully). Lee Seo-Yeon( Young Yun-i). Chung-gu Jung( Owner of the Junkyard). Kyu-Seop Lee( Gangster). Jung-Min Lim( Villager) .See also .Release Dates | Official Sites | Company Credits | Filming & Production | Technical Specs .Getting Started | Contributor Zone » .Contribute to This Page .Edit page.Top Gap.Answer.See more gaps ».Add episode.Tomorrow (TV Series) .Details .Full Cast and Crew.Release Dates.Official Sites.Company Credits.Filming & Production.Technical Specs .Storyline .Taglines.Plot Summary.Synopsis.Plot Keywords.Parents Guide .Did You Know? .Trivia.Goofs.Crazy Credits.Quotes.Alternate Versions.Connections.Soundtracks .Photo & Video .Photo Gallery.Trailers and Videos .Opinion .Awards.FAQ.User Reviews.User Ratings.External Reviews.Metacritic Reviews .TV .Episode List .Related Items .News.External Sites .Explore More.Show Less.Create a list » .User Lists .Related lists from IMDb users .list image.KDrama .a list of 32 titles.created 21 Oct 2020 .list image.Kdrama .a list of 30 titles.created 9 months ago .list image.KDrama
Language Korean.
Number of Seasons 1
Number of Episodes 16
Status OnGoing (2022–)