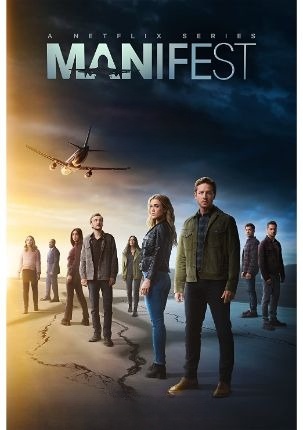 Manifest
Relased: November 4, 2022
7.1
43min/Ep
1080p
After disembarking from an ordinary flight, the crew and passengers of Montego Air Flight 828 find that 5 years have passed in what seemed to them to be only a few hours. As they begin to accept and understand what happened, a deeper and deeper mystery begins to unfold. Some of the passengers soon discover that something bigger is going on than they ever imagined.
Creator Jeff Rake
Directed by Romeo Tirone. Dean White. Michael Smith. Claudia Yarmy. Marisol Adler. Craig Zisk. Paul Holahan. Ramaa Mosley. Sherwin Shilati. Joe Chappelle. SJ Main Muñoz. Félix Enríquez Alcalá. David Frankel. Nina Lopez-Corrado. Tawnia McKiernan. Michael Schultz. Constantine Makris. Millicent Shelton. Jean de Segonzac. Nathan Hope. Mo Perkins. Nicole Rubio. Andy Wolk. Laura Belsey. Ruba Nadda. Josh Dallas. Erica Watson. Claire Fowler. Bosede Williams
Written by Jeff Rake. MW Cartozian Wilson. Ezra W. Nachman. Ezra W. Nachman. Ezra W. Nachman. Bobak Esfarjani. Bobak Esfarjani. Margaret Rose Lester. Margaret Easley. Laura Putney. Matthew Lau. Simran Baidwan. Marta Gene Camps. Gregory Nelson. Amanda Green. Jeannine Renshaw. Darika Fuhrmann. Ryan Martinez. Sumerah Srivastav. Matt K. Turner. Eric Haywood. Jimmy Blackmon
Cast Melissa Roxburgh. Josh Dallas. J.R. Ramirez. Luna Blaise. Parveen Kaur. Daryl Edwards
Language English
Producers Cathy M. Frank. Jacqueline Levine. Jack Rapke. Margaret Easley. Matthew Lau. Laura Putney. Jeff Rake. Harvey Waldman. Robert Zemeckis. Len Goldstein. Romeo Tirone. Simran Baidwan. Marta Gene Camps. Bobak Esfarjani. Amanda Green. Gregory Nelson. Jeannine Renshaw. Eric Haywood. Paul Holahan. Joe Chappelle. David Frankel
Production Compari Entertainment. Jeff Rake Productions. Universal Television. Warner Bros. Television.
Official sites NBC.com. Official Netflix
Season 4
Episodes 20