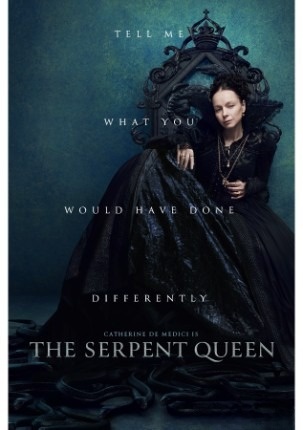 The Serpent Queen
Directed by Stacie Passon. Justin Haythe. Ingrid Jungermann.
Written by Leonie Frieda. Justin Haythe. Justin Haythe. Justin Haythe. Elizabeth Chakkappan. Ariella Blejer. Jessica Brickman. Ashley Cardiff. Dawn Kamoche.
Cast Amrita Acharia (Aabis). Enzo Cilenti (Ruggieri). Sennia Nanua (Rahima). Kiruna Stamell (Mathilde). Ludivine Sagnier (Diane de Poitiers). Ruby Bentall (Angelica). Barry Atsma (Montmorency). Antonia Clarke (Mary Queen of Scots). Rebecca Gethings (Queen Eleanor). Nicholas Burns (Antoine de Bourbon). Beth Goddard (Antoinette Guise). Raza Jaffrey (Francois Guise). Danny Kirrane (Louis de Bourbon). Ray Panthaki (Charles Guise). Paul Chahidi (Charles de Bourbon). George Jaques (Francis II). Jean-Stan Du Pac (Little Boy Matisse). Navid Negahban (Duke of Guise). Alex Heath (Young Prince Henri). Liv Hill (Young Catherine). Lee Ingleby (Henri (Older)). Naomi Battrick (Anne d'Etampes). Colm Meaney (King Francis). Steve Furst (Dr. Fernel). Gemma Dobson (Nathalie). Jade Croot (Edith). Loïc Azorin (Footman 2). Louis Landau (Dauphin Francois). Adam Garcia (Sebastio).
Language English.
Producers Justin Haythe. Nick O'Hagan. Stacie Passon. Brad Rohrer. Willa Whalen. John Bernard. Ariella Blejer. Jessica Brickman. Ashley Cardiff. Elizabeth Chakkappan. Dawn Kamoche. Francis Lawrence. Cameron MacConomy. Erwin Stoff.
Production 3 Arts Entertainment. Attitude Production. Lionsgate Television.
No. of Seasons 2
No. of Episodes 10
Status Finished (4)