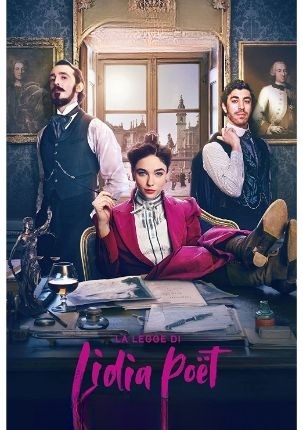 The Law According to Lidia Poët
Written by Guido Iuculano. Davide Orsini. Elisa Dondi. Daniela Gambaro. Paolo Piccirillo.
Cast Eduardo Scarpetta (Jacopo Barberis). Pier Luigi Pasino (Enrico Poët). Sinéad Thornhill (Marianna Poët). Sara Lazzaro (Teresa Barberis). Dario Aita (Andrea). Alessia Spinelli (Albertina). Aldo Ottobrino (Investigating judge). Francesco Biscione (King's attorney). Sebastiano Fumagalli (Lorenzo). Alessandro Federico (Lidia's father). Fabrizio Odetto (Prison guard). Jacopo Crovella (Atilla Brusaferro). Camille Dugay Comencini (Nicole). Roberta Mengozzi (Maya). Giorgia Spinelli (Margherita Sangiacomo). De Mojana Matteo (Coroner). Alessio Del Mastro (Alberto Muraro). Stefano Guerrieri (Assistant judge). Maurizio Fanin (General Valery). Alberto Valas (Man with Eye Patch). Alberto Roetto (15 year old boy). Nicolo Pasetti (Louis). Riccardo Leto (2° Judge). Marit Nissen (Vera Cressphal). Luca Filippi (Vittorio Muraro). Francesco Patanè (Pietro Baiocchi). Sara Borsarelli (Tenutaria del bordello). Matilde Vigna (Anita Tosetti). Francesca De Martini (Matilde Muraro). Denis Fasolo (Massimin/Epo Chiaia). Marco Cacciola (Rodolfo Fumigi). Fabrizio Careddu (Caporale). Riccardo Forte (Avvocato Coletti).
Language Italian.
Producers Guido Iuculano. Francesco Marras. Davide Orsini.
Production Groenlandia.
Creators Guido Iuculano. Davide Orsini.
No. of Seasons 1
No. of Episodes 6
Status On Going (2023–)