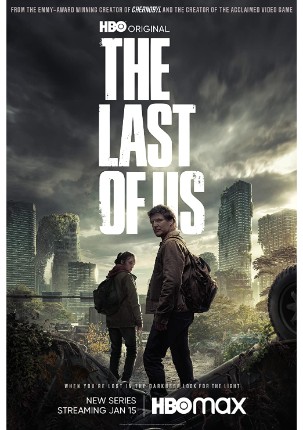 The Last of Us
Directed by Ali Abbasi. Jeremy Webb. Neil Druckmann. Peter Hoar. Liza Johnson. Craig Mazin. Jasmila Zbanic.
Written by Neil Druckmann. Neil Druckmann. Neil Druckmann. Craig Mazin. Craig Mazin.
Cast Bella Ramsey (Ellie Williams 1). Anna Torv (Theresa 'Tess' Servopoulos). Gabriel Luna (Tommy Miller). Lamar Johnson (Henry Burrell). Melanie Lynskey (Kathleen Coghlan). Nico Parker (Sarah Miller). Keivonn Woodard (Sam Burrell). Jeffrey Pierce (Perry). John Getz (Edelstein). Samuel Hoeksema (Clicker). Olivier Ross-Parent (Clicker). Merle Dandridge (Marlene). Storm Reid (Riley Abel). Scott Shepherd (David). Rutina Wesley (Maria). Nick Offerman (Bill). Troy Baker (James). Terry Chen (Cpt. Kwong). John Hannah (Dr. Neuman). Christine Hakim (Ratna Pertiwi). Murray Bartlett (Frank). Ian Rozylo (Infected Man). Ari Rombough (Joyce). Yayu A.W. Unru (Lt. Gen. Agus Hidayat). Graham Greene (Marlon). Ruby Lybbert (Bethany). Josh Brener (Murray). Sonia Maria Chirila (Hannah). Sharon Crandall (Lab Worker). Kevin Sateri (Infected in Cellar). Elaine Miles (Florence). Christopher Heyerdahl (Dr. Schoenheiss). Nelson Leis (Josiah). Marcus Aurelio (Infected at Fence). Philip Prajoux (Infected Kissing Man). Brad Leland (Mr. Adler). Rumbie Muzofa (Mother). Juan Magana (Bryan). Craig Haas (Informer). Jason Vaisvila (Marco). Toby Levins (Man on Horse). Marcia Bennett (Mrs. Adler). Eric Breker (Bryan's Father). Benjamin/Ep Rogers (Timothy). Ron J. Anderson (Sniper). Brendan Fletcher (Robert). Adam Basil (The Bloater). Miël Logan (Little Girl). Erik Lindquist (Villager). Paolina van Kleef (Staring Girl). Jerry Wasserman (Abe). Skye Cowton (Child Clicker). Tiahra Allen (Sarah 9 Years Old). Wendy Gorling (Nana). Jessica Belbin (Mrs. Lauterstein). Haysam Kadri (Nasir). Sarah Himadeh (Tahira). Riley Davis (Young Firefly Soldier). Caitlin Howden (Denise). Max Montesi (Lee). Natasha Mumba (Kim Tembo). Gina Louise Phillips (Medic). Taylor St. Pierre (Buzzcut). Ryan D. Clark (Soldier). Khadijah Roberts-Abdullah (Kind FEDRA Soldier). Logan Pierce (The Boy). Corina Akeson (Sooty Faced Woman). Jason Burkart (FEDRA Foreman). Andrea Greening (FEDRA Officer). Arran Henn (Newscaster). Ashley Johnson (Anna Williams). Pardeep Singh Sooch (Firefly Soldier #1). Ana Rice (Nurse #2). C. Stephen Campbell (Rebel Soldier / … (uncredited)). Shane Pollitt (Dead Man (uncredited)). Autumn Thom (Infected #6 (uncredited)). Kory Grim (Scavenger (uncredited)). Adrian Hein (Diner Chase Infected (uncredited)). Alan Chamout (Man in Line (uncredited)). Bud Klasky (Man Being Eaten (uncredited)). Patrick Chan (Stranger (uncredited)). Jace Bews (Stalker (uncredited)). Jeff Hanni (Rebel Soldier (uncredited)). Kevin Gritton (Bus Passenger (uncredited)). Janet Orpen (Infected Person (uncredited))
Language English.
Producers Rose Lam. Jacqueline Lesko. Cecil O'Connor. Neil Druckmann. Craig Mazin. Asad Qizilbash. Greg Spence. Carolyn Strauss. Carter Swan. Evan Wells. Jane Allison Hooper.
Production Canadian Film or Video Production Tax Credit (CPTC). Government of Alberta. Naughty Dog.
Creators Neil Druckmann(based on the PlayStation Studios videogame written by). Craig Mazin(created for television by).
No. of Seasons 1
No. of Episodes 10
Status OnGoing (2023–)