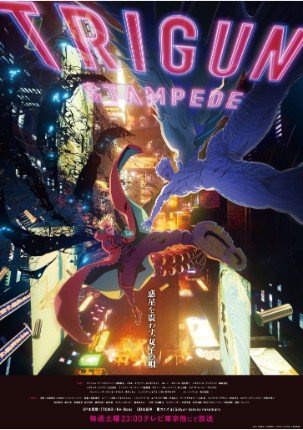 Trigun Stampede
Directed by Kenji Muto. min/Eporu Yamaoka. Naomichi Yamato. Hiroshi Nishikiori. Mie Ôishi.
Written by Tatsuro Inamoto. Yasuhiro Nightow. Shin Okashima. Takehiko Okishi. Yoshihisa Ueda.
Cast Sarah Roach (Meryl Stryfe). Ben Bryant (Roberto De Niro). Yoshitsugu Matsuoka (Vash the Stampede). Sakura Ando (Meryl Stryfe). Kenji Matsuda (Roberto de Niro). Masaya Onosaka (Radio DJ). Ryûsei Nakao (William Conrad). Yu Maeda (Hunter B).Naoto Kobayashi . David Matranga (Nicholas D. Wolfwood). Kristen McGuire (Vash (Young)). Madeleine Morris (Zazie the Beast). Brian Holder (Various). Yoshimasa Hosoya (Nicholas D. Wolfwood). Tarako (Zazie the Beast). Tomoyo Kurosawa (Vash (Young)). Kimiko Saitô (Rosa).Takayuki Ishii .Masaaki Yano .Kenta Zaima .Toshiro Ishida .Nanako Oomoto .Takuto Yokoyama .Mimu Satô .Yukine Shiraishi .Sakie Takada . Austin Tindle (Millions Knives). Megan Shipman (Knives (Young)). Lydia Mackay (Rosa). Emily Fajardo (Rem Saverem).
Language Japanese.
Producers Takayuki Oshima. Katsuhiro Takei. Kiyotaka Waki. Kazutaka Yamanaka. Yoshihiro Watanabe.
Production Orange. Shonengahosha. TOHO animation.
No. of Seasons 1
No. of Episodes 10
Status OnGoing (2023–)