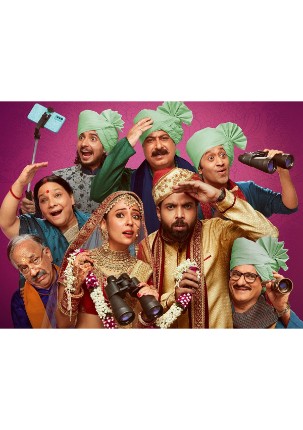 The Great Weddings of Munnes
Directed by Sunil Subramani.
Written by Parth Desai. Utsav Sarkar. Raaj Shaandilyaa. Shobhit Sinha. Vipul Vithlani.
Cast  Barkha Singh( Mahi 1) . Paresh Ganatra( Phatte Phupha 1) . Aakash Dabhade( Suresh 1) . Sunita Rajwar( Jigraa Bua 1) . Chetan Sharma( Ikka 1) . Sunil Chitkara( Shyam Pal Yadav 1) . Banwarilal Jhol( Pandit Ji 1) . Katie Iqbal( Mohini). Karamjeet Madonna( Nagma). Priti Shroff( Titli). Lovekush Kundu( Flower Man). Priya Gupta( Munni). Rajeev Sharma( Hari singh).Smita Sable . Ankur Bhardwaj( Inspector Shukla). Fardeen Aamir( AlokAnand). Vishvendra Singh( Army man). Komal Chhabria( Bhavani Devi (uncredited))
Language Hindi.
Producers Vishal Kapoor. Vimal K. Lahoti. Tushar Pakhare. Raaj Shaandilyaa.
Production Jio Studios. Thinkink Picturez.
Number of Seasons 1
Number of Episodes 10
Status OnGoing (2022–)