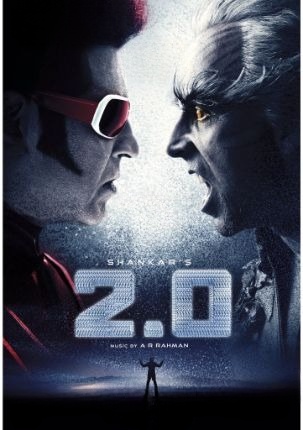 2.0
Category:
Relased: November 29, 2018
6.1
2 h 28 min
1080P
Directed by S. Shankar.
Written by Jayamohan. Lakshmi Saravanakumar. S. Shankar. Abbas Tyrewala.
Cast Rajinikanth(Dr. Vaseegaran / Chitti). Akshay Kumar(Pakshi Rajan). Amy Jackson(Nila). Adil Hussain(Minister Vijay Kumar). Sudhanshu Pandey(Dhinendra Bohra). Kalabhavan Shajohn(Telecom Minister). Anant Mahadevan(Scientist (as Ananth Narayan Mahadevan)). Mayilsamy(Telecom Minister's Assistant). Ishari Ganesh(Jeyanth Kumar). Kaizaad Kotwal(Manoj Lulla). Bharath Reddy(Police Officer). Maya S. Krishnan(College Student) . Joy Badlani(Police Inspector). Sajan Bajgain(Robot). Mayur Bansiwal(Pakshi Rajan's Father). Avijit Dutt(Dr. Sam).Jimmi Jaiswal. Laura Kokaua(Dancer). Mukesh Marko(Kheladi (voice)).Michael Muthu. Al Yasaha Naim(Al Yasaha). Sanchana Natarajan(College student). Musa Muhammed Olayinka(Engineer). Parth J Pachal((voice) (as Parth Panchal)). Annamalai Palaniappan(Guy in the crowd). G.V. Praveen(The Dude at the Cafeteria). Priya Prince(Pakshi Rajan's mother). Abdul Ahad Shaikh(Spectator (as Abdul Ahad)).Sujeet Kumar Sharma. Parth Siddhpura(Arjun)
Languages Hindi. Tamil.
Producers Alla Belaya. K. Karunamoorthy. Gaurav Misra. Nish Niruthan. Siddarth Prakhash. Navmeet Singh. A. Subaskaran. Dmytro Sukhanov. Sundarraj. Naveen Varadarajan.
Production Daksha. Double Negative (DNEG. Lyca Production.