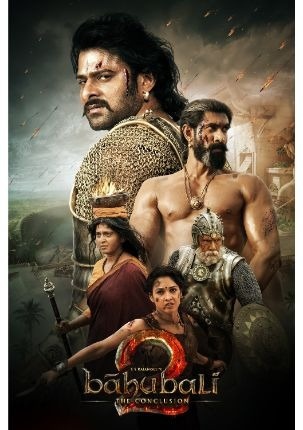 Baahubali 2
Category:
Relased: April 28, 2017
8.2
2 h 47 min
1080P
Directed by S.S. Rajamouli.
Written by S.S. Rajamouli. C.H. Vijay Kumar. Ajay Kumar. Madhan Karky. Manoj Muntashir. Mankombu Gopalakrishnan.
Cast Prabhas(Amarendra Baahubali / Mahendra Baahubali). Rana Daggubati(Bhallaladeva). Anushka Shetty(Devasena). Sathyaraj(Kattappa (as Sathya Raj)). Ramya Krishnan(Sivagami (as Ramya Krishna)). Tamannaah Bhatia(Avanthika (as Tamannaah)). Nassar(Bijjaladeva (as Nasser)). Subbaraju(Kumara Varma (as Subba Raju)). Meka Rama Krishna(King of Kunthala (as Meka Ramakhrisna)) . Rajsekhar Aningi(Samantha Raju). Backagaindancer(Kaptapu).Seshadev Bag. Tanikella Bharani(Swami Ji). Ganessh Divekar(Kumara Verma (voice)). Dvl 08(Music artist (voice)). Sharad Kelkar(Baahubali (Hindi) (voice)). Abhinaya Krishna(Kumara Varma).Chandramogli Madem. Aashish Maske(Srinu). Saqlain Momin(Extra Villager).Pavan Kumar Padala. Lavi Pajni(Asur). Komal Pareek(Bahubali (voice)). Prabhakar(Kalakeya King (flashback)).Venkat Prasad. Prudhviraj(Prime Minister of the Kunthala Kingdom).Aliur Rahman. Rohini(Sanga). Shriya Saran(Bhallala deva's wife). Shatru(Pindari Leader). Charandeep Surneni(New Kalakeya King). Subramanyam Varma(Letter Boy). Rakesh Varre(Sethupathi). Ashrita Vemuganti(Jayasena's Wife)
Languages Telugu. Tamil. Hindi.
Producers Devika Bahudhanam. Prasad Devineni. Deepak Prajapat. K. Raghavendra Rao. M.M. Srivalli. Shobu Yarlagadda.
Production Arka Mediaworks.