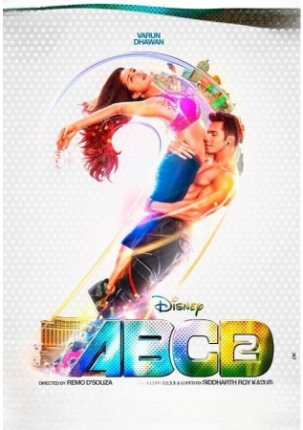 Any Body Can Dance 2
Category:
Relased: June 19, 2015
5.4
2 h 34 min
1080P
Directed by Remo D'Souza.
Written by Remo D'Souza. Tushar Hiranandani. Mayur Puri.
Cast Prabhu Deva(Vishnu (as Prabhudheva)). Varun Dhawan(Suresh). Shraddha Kapoor(Vinnie). Lauren Gottlieb(Olive). Dharmesh Yelande(D). Punit Pathak(Vinod). Raghav Juyal(Crocxz). Tisca Chopra(Swati – Vishnu's ex-wife). Jineet Rath(Manu – Vishnu's Son). Akanksha Nehra(Ashima). Prachee Shah(Suresh's mother (as Prachi Shah)) . Mohit Abrol(Master of ceremonies). Parthaa Akerkar(Man who ordered pizza (as Parth Akerkar)). Hariharasudhan Balasubramani(Friend). Pooja Batra(Puja Kohli). Leah Bayne(Norwegian Dance Team). Pravin Bhosale(Pravin). Ashley Campbell(International Hip Hop Competition Representative). Gauransh Chauhan(Feature Dance With MJ5). Trina Colon(TSA Agent). Illuminati Dance Crew(Dance Group). Ragini Dev(Dancer). Md Asraful Hoque(Hasan). Cesar Alejandro Lazcano(German Gymnast (as Cesar Lazcano)). Narreshh Malikk(Pizza Outlet Manager (as Naresh Malik)).Tyler Mizak. Chander Mohan(Dance Audition Candidate). Michelle Perks(Dancer). Sushant Pujari(Vernon). Pavan Rao(Pavan). Will Roberts(Walter White – Organizer). Manmeet Singh Sawhney(Raghav's Uncle (as Manmeet Singh)). Saajan Singh(Saajan). 
Language Hindi.
Producers Rukhshida David. Salona Bains Joshi. Siddharth Roy Kapur. Rushda Majeed. Abhinav Mehrotra. Kanishka Mehta. Chetan Motiwalla. Amrita Pandey. Bala Rajasekharuni. Alan Noel Vega.
Production 160-H Productions. IX Faces Pictures. UTV Motion Pictures.