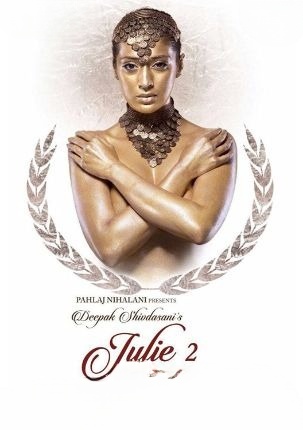 Julie 2
Category:
Relased: November 24, 2017
2.2
2 h 39 min
1080P
Directed by Deepak S. Shivdasani.
Written by Deepak S. Shivdasani.
Cast Nishikant Kamat(Mohit). Raai Laxmi(Sumitra devi and Julie). Rati Agnihotri(Annie Aunty). Ravi Kishan(Ravi Kumar). Pankaj Tripathi(Ashwini Asthana (as Pankaj Tripathy)). Ashok Banthia(Jeweller Agarwal). Raanveer Chahal(Ratan (voice)). Pratik Dixit(Film Financier Khanna). Kamal Ghimiray(COP). Dev Gill(Atif Lala). Brij Gopal(Madan). Ravi Gosain(Film Writer). Premnath Gulati(Commissioner of Police). Anant Jog(Benefit Rao). Atul Kale(Minister's assistant). Asad Khan(Ambani). Shashi Kiran(Producer Shashi). Siemit Kumar(Assistant Cop Nada). Dolly Minhas(Julie's Mother). Kamal Kumar Roy(Assistant Cop Kanti). Salim M. Shaikh(Police officer Salim). Aditya Srivastav(ACP Dev Dutt). Vikas Srivastava(Assistant Cop Suri). Yogesh Suri(Julie's Father). Vivek Vaswani(Producer Shanti). Ankit Vyas(Mohit's film hero)
Language Hindi.
Producers Amit Mehta. Vijay Nair. Pahlaj Nihalani. Deepak S. Shivdasani.
Production Triumph Talkies.