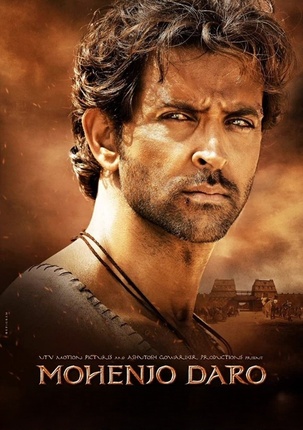 Mohenjo Daro
Category:
Relased: August 12, 2016
5.6
2 h 35 min
1080P
Directed by Ashutosh Gowariker.
Written by Preiti Mamgain.
Cast Hrithik Roshan(Sarman). Pooja Hegde(Chaani). Kabir Bedi(Maham). Arunoday Singh(Moonja). Suhasini Mulay(Laashi). Nitish Bharadwaj(Durjan). Kishori Shahane(Bima). Sharad Kelkar(Srujan). Manish Chaudhari(Priest (as Manish Chaudhary)). Narendra Jha(Jakhiro). Shaji Chaudhary(Kulka). Tufail Khan Rigoo(Ishme Dagan). Diganta Hazarika(Lothar). Naina Trivedi(Junu). Umang Vyas(Hojo). Chandar Khanna(Chief of Farmers). Dilip Raj(Chief of Artists). Manohar Pandit(Chief of Merchants). Baldeo Kalro(Chief of Brick Makers). R.K. Sharma(Chief of Dyers). Bharat Bhatia(Chief of Miners (as Bharat Bhatiya)). Rishi Sharma(Chief of Fishermen). Ajay Nathwani(Chief of Metal Workers). Vindre Kaushal(Chief of Jewellers & Bead Makers). Bhagvan Bablani(Chief of Weavers). Sanjay Modyani(Chief of Guards). Ajeet Puri(Chief of Land Owners). Ram Falkoti(Chief of Potters). Harry Sabhnani(Chief of Cattle Herders). Suresh Marathe(Phulji). Jividha Sharma(Raami). Casey Frank(Bakar). Michael Homik(Zokar). Rajan Kapur(Maham's Scholar). Raju Udasi(Maham's Scribe). Vijay Sanap(Chief Bandit). Musayyad Mustak Muchhale(Bandit 1). Samar Ali(Bandit 2). Rahul Gairola(Moonja's Bandit 1). Ranjeet R. Jadhav(Moonja's Bandit 2). Shyam(Chaani's Attendant 1). Asif(Chaani's Attendant 2). Rajesh Zhaveri(Amri Head Man) . Himanshu Bamzai(Makkan (credit only)). Yuvraaj Gupta(Angrakshak). Yuvraj Gupta(Angrakshak).Md Anan Islam. Dawood Khan(Mantri Suhas). Yakshitt Rroy(Makan (as Suresh Kumar)). Ronne Shah(Sumerian). Tanmay Sharma(Sumerian). Shyraa Roy(Mohini (uncredited))
Languages Hindi. Indonesian.
Producers Syed Zaid Ali. Lawrence D'Souza. Konark Gowariker. Sunita Gowariker. Siddharth Roy Kapur. Amrita Pandey. Alok Sinha.
Production UTV Motion Pictures.