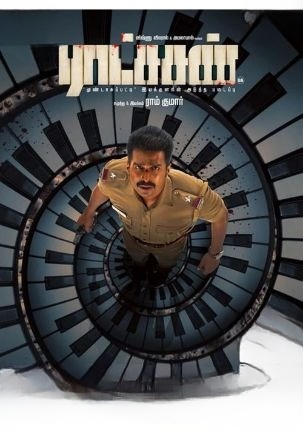 Raatchasan
Category:
Relased: October 5, 2018
8.3
2 h 50 min
1080P
Directed by Ram Kumar.
Written by Ram Kumar.
Cast Vishnu Vishal(Arun). Amala Paul(Viji). Radha Ravi(Inspector Rajamanickam). Sangili Murugan(Arun's Houseowner). Munishkanth(Arun's Brother-in-law (as Ramdoss)). Saravanan(Christopher / Mary Fernandes). Usha Elizabeth(Arun's mother). Vinodhini Vaidynathan(Arun's Sister). Ammu Abhirami(Ammu (as Abhirami)). Monica(Kayal). Kaali Venkat(Venkat). Suzane George(ACP Lakshmi). Nizhalgal Ravi(Doctor Nandhan). Vinod Sagar(Inbaraj). Jai Anand(Anbarasu ; Police Officer). Gajaraj(Senior Police Officer). Thangam Paramanandhan(Simon ; Police officer). Pasupathi(Pasupathi ; Police Officer). Sanjay Vellanki(Inspector Durai Raj). Raveena Daha(Sharmi ; Ammu's classmate).Sanjay. Trishala Idnani(Sanjana and Sangeetha, ; twin sister (dual role)).Kumar. Karunakaran(Special Appearance). Ragavi Renu(Sophie ; Christopher's love interest). Adhithri Dinesh(Samyuktha ; Sophie's friend). Ghibran(Special Appearance). Neha Menon(Amudha ; Sophie's friend). Rekha Padmanaban(Amudha's Mother). Akshay(Mahesh ; Ammu's classmate also one who loves Ammu). Kumar Das(Auto Driver Kumar ; Inbaraj's helper). Priya(Meera). Geetha Narayanan(Sanjana and Sangeetha's school principal) .Sanjay.Sujeet Kumar Sharma.Farsi Zaman
Language Tamil.
Producers G. Dilli Babu. Dinesh Kannan. R. Sridhar.
Production Axess Film Factors.