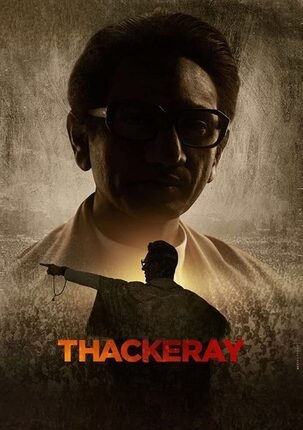 Thackeray
Category:
Relased: January 25, 2019
5.3
2 h 19 min
1080P
Directed by Abhijit Panse.
Written by Abhijit Panse.
Cast Nawazuddin Siddiqui(Bal Thackeray). Amrita Rao(Meena Tai Thackeray). Vineet Sharma(Emmanuel Modak). Prakash Belawadi(George Fernandes).Radha Sagar. Sanjay Narvekar(Krishna Desai). Nikhil Mahajan(Sharad Pawar). Pradeep Velankar(Desai).Micky Makhija. Niranjan Javir(Marathi Young Man). Rajesh Khera(Morarji Desai). Rajgopal Iyer(AP Selvarajan (as Raaj Gopal Iyer)). Jaywant Wadkar(Inspector). Satish Alekar(Janta Party Member). Ashok Lokhande(Yeshwantrao Chavan). Om Kanojiya(Baban's Son). Resh Lamba(Dahashadwadi). Anand Vikas Potdukhe(Jambuwantrao dhote). Vishal Sudarshanwar(Raj Thackeray). Sonamoni Jayant Gadekar(Muslim lady who comes to ask for help from Thackeray after loosing her home in riots). Nilesh Divekar(Inspector investigating terrorists who planned to kill Thackray (as Nilesh Diwekar)).Praveen Indu. Ashish Pathode(Javed Miandad).Laxman Singh Rajput. Nitin Bansode(Airport criminal). Purnanand Wandhekar(Killer). Abdul Quadir Amin(Jaidev). Pardeep Singh Rajput(Cricketer pankaj singh (as Pradeep Singh Rajput)). Amol Redij(Dangal Inspector). Vinayak Chavan(Ganpat). Anushka Jadhav(Girl In Chawl).Naresh NK Sharma. Mukund Gosavi(Prabodhankar Thackeray). Chetan Sharma(Dilip Vengsarkar). Mayur Lolge(XYZ). Sonamoni Jayant(Amina).Praful Ghag. K.R. Parmeshwar(High Court Judge). Sunil Bendkhale(Matoshri Hawaldar). Sachin A. Jayavant(Udhav Thackray)
Languages Hindi. Marathi.
Producers Mangesh Bhalerao. Vishakha Joshi. Hetvi Karia. Chandrashekhar Nannaware. Santosh Rai. Sanjay Raut. Umesh Shinde.
Production Carnival Motion Pictures. Raut'ers Entertainment.